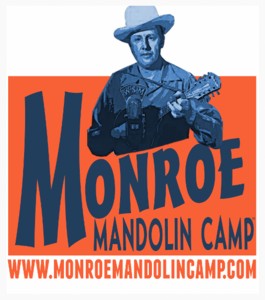 On Wednesday, September 9, 2015, the Monroe Mandolin Camp Instructors Mike Compton, David Davis, Skip Gorman, David Long, Casey Campbell, and Mark Royal (plus all-star backup band), will be performing LIVE on Music City Roots, showcasing that traditional bluegrass roots style mandolin playing created by Bill Monroe. What a fantastic night to showcase our world-class instructors, and to shine a spotlight on Bill's music! We'll create our own Monroe-Mandolin-Mania! Show starts at 7pm. You can attend in person at The Factory in Franklin, TN, or view via the live telecast from the comfort of your own home. For details of where to go for the broadcast via Lifestream, visit Music City Root's webpage [1].
The Monroe Mandolin Camp Benefit Concert featuring our Instructors and Luthiers, Original Bluegrass Boys, and our 2015 Youth Scholarship Recipients Carter Vintage Guitars takes place September 12, 2015 at 7:30 PM. This evening promises to TOP last year's SOLD OUT event! Different mandolin combinations, an ALL-STAR back-up band by Original Bluegrass Boys Blake Williams, Tom Ewing, Glen Duncan, and Mark Hembree, special guests, featuring our 2015 Youth Scholarship Recipients, anecdotes and "Bill-isms", we promise an evening to knock your socks off.
Details for tickets and/or live streaming will be on our website and in future email blasts. ALL proceeds from this evening will go to fund our 2016 Youth Scholarship Fund. A night not to be missed!
Camp Director, Mike Compton announced, "This year we will be adding another day to our schedule in order to accommodate the desire to get in some more jamming time. We will have the same amount of class instruction spread out over the week and we have some of the greatest practitioners in the Monroe style available to you again. The new schedule arrangement makes room for not only more jamming but for some pretty spectacular special presentations each afternoon. I am excited to add this feature and I am confident you will enjoy what we are cooking up for you. "
This year the camp has moved to an older site and the producers hope you will find it to be as beautiful and peaceful as they do. There is plenty of room to spread out and plenty of shade for sitting down and learning a tune with a few folks, or taking a nap and getting ready to jam all night. Plus there's room to stretch your legs some if you need a good walk. As mentioned earlier, the camp will be presenting the Saturday night showcase at Carter Vintage Guitars again this year. Christie and Walter Carter are up for it, and have graciously included us on their calendar for 2015. How often are you in a room surrounded by mandolins made by the greatest luthiers in the world?
There is so much more in store for you this year at the Second Annual MonManCamp. I heartily invite you to come be with us, and share in the celebration of the musical legacy of the Father of Bluegrass. It is a vibrant and wonderful community we are supporting and we would like very much for you to be a part of it. We will do our utmost to see that you are given the tools to express yourself in the old-time style. We believe that it is still one of the most vibrant and valid mandolin languages in the world and in the words of Mr. Bill, "…it's powerful". Find out more at www.MonroeMandolinCamp.com [2].