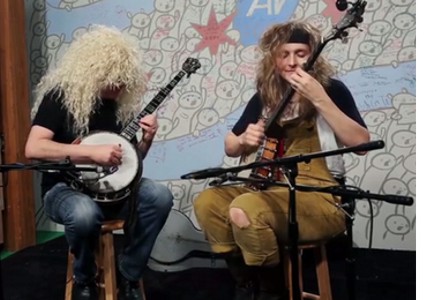 Yes, it's only the second week of Undercover 2015, and we're already looking at our second and third banjos of the season. But behold the power of Béla Fleck and Abigail Washburn, who took the classic-rock staple "The Final Countdown" and reimagined it for banjos and wig for The Onion A.V. Club. Yes, when Fleck—who's been widely recognized as one of the instrument's greats for decades—showed up at AVHQ, he asked whether we might have a "hair metal" wig for him to wear.
Since this is also Onion HQ, we've got a whole wardrobe room, and a new look was born. For her part, Abigail Washburn teased her hair and added a headband.) Fleck took the wig with him, and the duo—whose latest collaboration is called simply Béla Fleck and Abigail Washburn -- has been playing "The Final Countdown" on the road. Oh, and Fleck's documentary How To Write A Banjo Concerto is available now on iTunes.
This comical presentation of the "The Final Countdown" was one of the selections available on the "Undercover" list of songs to be performed. After this, there is talk of other banjo performances in the future. The banjo playing duo's colorful interplay on this piece is light, cheerful and smooth as it transitions back and forth.