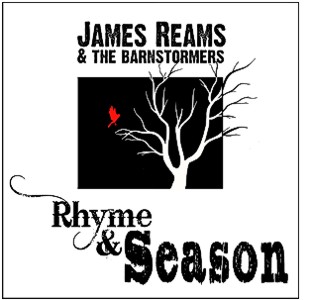 You may have heard that James Reams & The Barnstormers will be releasing a new album in late 2015. The album, called "Rhyme & Season," will contain songs that commemorate the resilience of the human spirit, especially those who are faced with homelessness. After experiencing a period of being homeless as a young man, James hopes that putting these songs together on one album will not only celebrate the wandering soul that lives in all of us, but also help raise awareness about specific issues that those living on the streets are faced with on a daily basis.
One of those issues is "What if I get sick or injured?" In response this concern, James has selected the Arizona branch of Circle the City to receive a portion of the proceeds from the sale of this newest album. As the first and only medical respite program in Arizona, Circle the City provides medical care for homeless persons who are too ill or frail to recover from illness or injury on the streets or in a shelter, but are not quite sick enough to remain in a hospital.
This new album celebrates the perpetual pilgrim that lives within all of us with the goal of raising awareness about those who live on the razor-sharp edge of homelessness. According to James, "My intention is to embrace a wide range of human emotion from happiness and love to loss and sorrow, and over it all to express the hope I feel about the future. As I listened to some old gems, I was once again amazed at the depth that bluegrass music brings to understanding the human character. These songs inspired me to add my own contribution to the album in the form of original material that touches on similar issues affecting our world today."
Meet Alan, a homeless veteran with diabetes who was taken to a hospital emergency room after going into diabetic shock. He was treated and released. Without the money to buy the insulin he needed to maintain his blood sugar levels, it's only a matter of time until this scenario repeats itself. With no insurance and no income, the hospital prescriptions weren't worth the paper they were written on to this veteran. Alan's tale is just one of many different stories from the streets. Watch this video from a local TV station and meet some of those that Circle the City is dedicated to helping. These are more than just stories to Sister Adele O'Sullivan, medical doctor and founder of Circle the City, they're people.
That's why she founded the Phoenix-based Circle the City in 2012. With the help of local hospitals, the community, volunteers, and donations from private foundations and individuals there's finally a place that serves those who have no where to go. "I know that between these walls, suffering will be prevented," Sister Adele commented when the doors were finally opened to those in need.
Medical respite centers like Circle the City exist in most major cities around the world. James donates to this Phoenix-based charity and encourages everyone who reads this article or listens to the album to support agencies that work to help the homeless in your community.