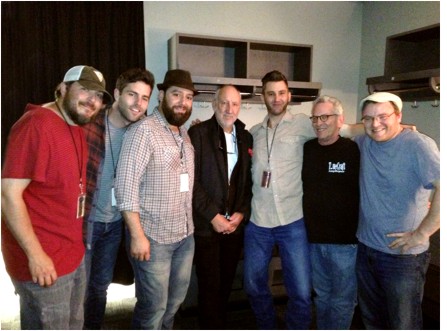 On the heels of their sold-out show Sunday night at Nashville's famed Station Inn, rising bluegrass stars The HillBenders had the opportunity to meet rock legend Pete Townshend. The HillBenders' upcoming album,
Tommy: A Bluegrass Opry
(Compass Records, June 2), produced by Louis Jay Meyers, is a bluegrass retelling of The Who's iconic rock opera.
The band chatted briefly with Townshend after The Who's performance at Nashville's Bridgestone Arena on Monday. Townshend said he first heard about The HillBenders' Tommy project in the UK, where a buzz is starting to build about both the upcoming album and band's live performances of the project. "Pete said he's seen the videos from Tommy that we've done – and then he asked who sang 'Acid Queen,'" said The HillBenders' Nolan Lawrence, referring to a song that is heavily identified with Tina Turner, the artist who performed it in the 1975 film version of the album. "When I raised my hand, he jokingly jabbed, 'With a beard like that?!?'"
Tommy: A Bluegrass Opry continues to collect critical praise as a live performance, with Rolling Stone including the band's Austin show in the magazine's "50 Best Things We Saw At SXSW 2015" list, and Billboard noting that their "ambitiously and audaciously rendered version of 'Tommy' in its entirety was well worth standing in the rain to hear." Compass Records' upcoming release of Tommy: A Bluegrass Opry has been one of the most downloaded projects on Airplay Direct's current Bluegrass/Folk chart since the album's debut on the chart last month.
"Ever since I was a young boy I played the silver ball." Maybe this is not your standard bluegrass lyric, but this is certainly a line known by all the world from the biggest rock opera of all time. Tommy is appealing to music fans of all ages. This is truly a classic. 45 years after its original release, this classic of classic rock has now been fully realized as a full length bluegrass tribute featuring yours truly. Conceived and produced by SXSW co-founder and longtime musician/producer Louis Jay Meyers, this Bluegrass Opry brings a new perspective to Tommy while paying total respect to its creators.
Upcoming performances of The HillBenders' Tommy: A Bluegrass Opry include:
6/11/15 – North Bethesda, MD – AMP by Strathmore
6/12/15 – Smyrna, DE – Smyrna Opera House
6/14/15 – Buffalo, NY – The Sportsmen's Tavern
6/15/15 – Toronto, ON – Hugh's Room
6/16/15 – Troy, NY – The Ale House
6/17/15 – Malvern, PA – Valley Creek Park
6/18/15 – New York, NY – Rockwood Music Hall 2
6/21/15 – Worthington, OH – Natalie's Coal Fired Pizza
7/25/15 – Lyons, CO – Wildflower Pavilion
8/15/15 – Schwenksville, PA – Philadelphia Folk Festival
9/26/15 – Sag Harbor, NY – Bay Street Theater
10/1/15 – Greer, SC – The Albino Skunk Bluegrass Festival *One Tommy Set; One HillBenders Set
10/17/15 – Ozark, AR – Phases of the Moon Festival
12/5/15 – Pittsburgh, PA – Carnegie Lecture Hall