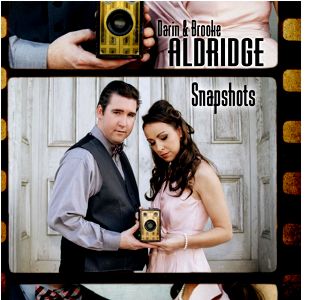 Nashville, TN -- Darin and Brooke Aldridge announce the release of a new music video for "Tennessee Flat Top Box." The video was shot onsite at Nashville's iconic Station Inn during a recent appearance by the Aldridge band. The song appears on their latest and widely acclaimed album, Snapshots, which debuted at #6 on the Billboard Bluegrass Album Chart earlier this year.
Fans will be able to view the entire video when it debuts at 10:00 a.m. ET on Thursday, May 14th on Facebook and on the Mountain Home Music Company website.
Written by Country Music legend, Johnny Cash, "Tennessee Flat Top Box" was first released as a single in 1961, reaching #11 on the Billboard Country Singles chart and #84 on the Pop chart.
The song chronicles the story of an aspiring musician who becomes popular in his small hometown, is beloved by all the girls and rises to stardom, finally appearing on television, his dreams fulfilled.
In 1987, Cash's daughter, Rosanne Cash, recorded the tune, and it was the third single released from her album, King's Record Shop. Playing the acoustic guitar solos on that cover recording is Randy Scruggs.
With Snapshots, Darin & Brooke continue their own tradition of balancing respect for bluegrass tradition with exploring musical innovative. Special guests on the album include Steve McMurry, Sam Bush, Ricky Skaggs and Doyle Lawson. The album is heartfelt, inspiring and skillful, rendered by the Aldridge's young and gifted band: Carley Arrowood, Dwayne Anderson, Colin Willis, and Tyler Collins.
Snapshots (Mountain Home Music Company) is available now. For more on Darin & Brooke Aldridge, visit www.darinandbrookealdrideg.com [1]