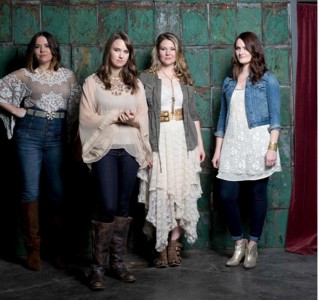 Galax, VA -- Music will ring out from the foot of Fisher Peak on the Blue Ridge Parkway beginning May 23 as the 2015 Concert Season begins at the Blue Ridge Music Center. The Music Center will showcase the talents of great performers, including Della Mae, The Sherman Holmes Project with Phil Wiggins, Marty Raybon, The Jeff Little Trio, Alice Gerrard, Steep Canyon Rangers, Wayne Henderson with Helen White and Herb Key, De Temps Antan, Rebecca Frazier, The Steel Wheels, and many more.
In addition to the weekly Saturday performances, the Blue Ridge Music Center will host:
Mid-day Mountain Music performances daily from noon to 4 p.m.
A special concert presented by The Crooked Road's Mountains of Music Homecoming Festival, featuring COIG and The Whitetop Mountain Band on Thursday, June 18
"The History of the Banjo: Africa to the New World" exhibit, June 18-July 13
Concert tickets can be purchased at www.blueridgemusiccenter.org [1], by calling (866) 308-2773, ext. 245, or in person at The Blue Ridge Music Center. Season Passes for the BRMC 2015 Season passes and memberships, which support the programs at the Music Center, are only available by phone.
The Blue Ridge Music Center receives support from the National Endowment for the Arts, established by Congress in 1965 to strengthen the creative capacity of our communities by providing all Americans with diverse opportunities for arts participation.
Performers for May through October season include Della Mae, Marty Raybon, The Jeff Little Trio, Alice Gerrard, Steep Canyon Rangers, Steel Wheels & more
2015 PERFORMANCE SCHEDULE
Junior Appalachian Musician and Family Day + ShadowGrass & The Wildmans
May 23, 5-9 p.m. / Free
Junior Appalachian Musician Day will feature performances by local and regional (Galax, VA, and Alleghany and Ashe counties in North Carolina) JAM groups from 5 to 7 p.m., followed by an evening concert highlighting talented youth bluegrass bands ShadowGrass and The Wildmans from 7 to 9 p.m. The Blue Ridge Music Makers will also be on hand with their Instrument Petting Zoo for children to try their hands at fiddle, banjo, guitar, and more.
ShadowGrass is a bluegrass band consisting of young musicians from southwest Virginia and northwest North Carolina. The band features Kitty Amaral (fiddle), Presley Barker (guitar), Kyser George (bass), Luke Morris (mandolin), and Clay Russell (banjo). BRMC concertgoers may remember Amaral's electrifying performance last year with her band of adult performers, The Stray Cats.
The Wildmans are a family band that features the talents of Eli and Aila Wildman on mandolin and fiddle and family friend, Hunter Crawford, on guitar. Their mom, Deb Wildman, holds down the beat on bass. The group plays traditional bluegrass with a focus on instrumental leads and strong vocals.
The Amigos + The Barefoot Movement
May 30, 7 p.m. / $10
The Amigos deliver foot-stomping, accordion-infused Americana music blending folk-rock, zydeco/cajun, and hot jazz. Rockin' solos, dare-devil harmony singing, and wild western-wear have taken The Amigos from sold-out shows at Lincoln Center to the Philadelphia Folk Festival and Nashville's Music City Roots.
The Barefoot Movement was named 2014 Momentum Award winner for Band of the Year by the International Bluegrass Music Association (IBMA). Its musicians have been selected as showcase artists at the IBMA and the Americana Festival conferences. The band is known for its harmonies, thoughtful instrumentation, and memorable melodies.
The Sherman Holmes Project with Phil Wiggins & Brooks Long + The Harris Brothers
June 6, 7 p.m. / $15
For nearly 40 years, The Holmes Brothers have expertly blended Saturday night's roadhouse rock and blues with the gospel passion of Sunday morning church services. For this show, Sherman Holmes is teaming with Piedmont Blues legend and Virginia-based master harmonica player Phil Wiggins (Cephas & Wiggins) and Brooks Long to celebrate the legacy of the original band and its soulful blues and gospel music.
Brothers Reggie and Ryan Harris were born and raised in Western North Carolina. Their expansive live repertoire consists of traditional roots music, rock & roll, jazz, blues, Appalachian music, vintage country, and bluegrass. A typical live show effortlessly shifts from original tunes to the duo's own arrangements of songs from all sides of the Americana musical spectrum.
Della Mae + Cathy Fink & Marcy Marxer
June 13, 7 p.m. / $20
Grammy-nominated Della Mae is a potent musical foursome made up of versatile instrumentalists and vocalists who draw from a bottomless well of rootsy influences to create vibrantly original music. The band's musical vision is conveyed with timeless lyrical truths. The band's unmistakably contemporary sensibility places it alongside such roots-conscious young acts as The Avett Brothers, Punch Brothers, The Lumineers, and Hurray for the Riff Raff.
Two-time Grammy-award winners Cathy Fink and Marcy Marxer are a formidable powerhouse of sound, with a repertoire of traditional and contemporary folk, old-time country, and swing music. Their superb harmonies are backed by instrumental virtuosity on the acoustic and electric guitar, five-string banjo, mandolin, cello banjo, ukulele, percussion, and many other instruments.
Presented by The Crooked Road's Mountains of Music Homecoming Festival
Còig + The Whitetop Mountain Band
Thursday, June 18, 7 p.m. / $25
As part of the Mountains of Music Homecoming Festival, June 12-20, in Virginia, the Blue Ridge Music Center will showcase Nova Scotia's Còig ("Ko-ig," which is Gaelic for "5"). This energetic ensemble consists of five successful solo acts who came together to create one supergroup. Their debut album "Five" earned the band the 2014 Canadian Folk Music Award for Traditional Album of the Year and the Music Nova Scotia award for Traditional/Roots Recording of the Year.
The Whitetop Mountain Band continues to preserve the style of old-time fiddling and banjo picking specific to the music-steeped area of Whitetop, Virginia. At the same time, the band's shows are versatile, containing everything from fiddle/banjo instrumentals to powerful solos and harmony vocals on blues, classic country, honky-tonk, and traditional bluegrass numbers. Old-timey ballads, originals, and four-part mountain gospel songs, and even flat foot dancing round out the shows.
Marty Raybon + Travis Frye & Blue Mountain
June 27, 7 p.m. / $15
Country music artist Marty Raybon is known for his role as the lead singer of the band Shenandoah. Raybon has a remarkable list of career accomplishments, including multiple No. 1 singles, top selling albums, CMA, ACM, IBMA, and Grammy Awards, and scores of other accolades.
Travis Frye and Blue Mountain is a multi-generational bluegrass band that honors the Appalachian roots of the music while adding a modern twist. The band incorporates spirited fiddle and banjo tunes along with modern selections from country, bluegrass, and gospel traditions, as well as original material.
The Jeff Little Trio + New Ballards Branch Bogtrotters
July 4, 7 p.m. / $10
Like Doc Watson, who famously adapted traditional fiddle tunes to the guitar, Jeff Little has adapted traditional fiddle tunes to the upright piano. His distinctive style is highly influenced by the flat-picking guitar tradition. The trio also features two-time national banjo champion Steve Lewis (also on guitar) and upright bass master Josh Scott.
About 25 years ago, a group of talented musicians from the Galax, Virginia, area formed The New Ballards Branch Bogtrotters, taking their name, in part, from the original Bogtrotters of the 1930s. The New Ballards Branch Bogtrotters continue to play in the traditional Appalachian string-band style, often playing for square dances across the region. The band remains a driving force in carrying on the traditional music of the Virginia/Carolina Blue Ridge Mountains.
Laurelyn Dossett & Friends + John Hofmann's AcousticA
July 11, 7 p.m. / $10
Singer/songwriter Laurelyn Dossett lives and writes in the Piedmont of North Carolina, and her songs reflect the stories of the region, both traditional and contemporary. One of the most sought-after voices in creative collaborations, she cofounded the band Polecat Creek with singing partner Kari Sickenberger. Her song "Anna Lee" was featured on Levon Helm's Grammy-winning record Dirt Farmer, and CD/DVD, Live at the Ryman, and her song "Leaving Eden" was the title track for the Grammy-winning Carolina Chocolate Drops' 2012 release.
After wandering the country and world playing guitar, mandolin, banjo, and violin with nationally known acts like Mickey Gilley, John Hofmann returned to his hometown of Thomasville, North Carolina. He no longer answers the far off call of the road, but he still performs and repairs fiddles at his own shop so others can play the traditional music he loves.
Jeanette & Johnny Williams Band + Strictly Strings
July 18, 7 p.m. / $10
Johnny Williams is an award-winning singer, songwriter, and accomplished guitarist. He has been named Virginia State Champion Male Vocalist, and was the bluegrass division winner of the prestigious Chris Austin Songwriting Contest at MerleFest in 1998 and 1999. Since her debut solo release in 1994, Jeanette Williams has quietly become one of the most successful and celebrated women in bluegrass music. Jeanette burst onto the national scene in 1999 with her Doobie Shea Records release Cherry Blossoms in the Springtime, which spent nine months on the Bluegrass Unlimited National Album Chart. She has received more than 10 award nominations by the Society for the Preservation of Bluegrass Music in America, including three wins for Female Vocalist of the Year, two IBMA awards, and two songwriting awards.
Strictly Strings is an incredibly talented youth bluegrass band featuring Kathleen Burnett, Willow Dillon, Anissa Burnett, Caleb Coatney, Liam Purcell, and Watauga County Junior Appalachian Musician instructor Cecil Gurganus.
The Church Sisters + Pike City Bluegrass
July 25, 7 p.m. / $10
Twin 18-year-olds Savannah and Sarah Church are known for their angelic Blue Ridge Mountain music harmonies. They're backed by some of the region's best instrumentalists, including guitarist Josh Pickett (No Speed Limit), mandolinist Spencer Strickland (Kenny & Amanda Smith Band, Virginia Luthiers Band), and bassist Jacob Eller (No Speed Limit, Sierra Hull).
Pike City Bluegrass loves to pick a variety of music from bluegrass to new grass, to gospel. Pike City's accomplishments include first place at the Fries Fiddlers Convention and fourth place at the Galax Old Fiddlers Convention. The band has opened for The Travelers at the Blue Ridge Film Festival and Ralph Stanley 2 at the Historic Rex Theatre in Galax, Virginia.
Wolfe Brothers String Band + Joe Troop & Diego Sanchez
August 1, 7 p.m. / $10
The Wolfe Brothers String Band plays and sings traditional old-time music with a repertoire that includes original material as well. In 2013, the Elk Creek, Virginia, band, made up of Jerry Correll, Dale Morris, Casey Hash, and Donna Correll, won the Appalachian Country Music Association Old-Time Vocal Group of the Year Award.
Joe Troop and Diego Sanchez are an acoustic world-music duo based in Argentina. Since 2010, they've been creating and performing original music for the five-string banjo, fiddle, double bass, and voice in the multicultural Buenos Aires underground. Their genre-bending compositions reflect the urban melting pot from which they've emerged.
Spencer Branch + Mickey Galyean & Cullen's Bridge
August 15, 7 p.m. / $10
Spencer Branch is the collaboration of siblings Martha and Kilby Spencer from Whitetop Mountain, Virginia, along with North Carolina native Kelley Breiding. They play music drawn from their mountain heritage in addition to traditional country, bluegrass, and a healthy dose of original songs. Their vocal harmonies and thrilling fiddle tunes are a powerful combination.
Mickey Galyean felt a strong desire to keep the music of his father, legendary musician Cullen Galyean, alive after his passing in 2010. With a rich bluegrass heritage, Mickey put together his band, Cullen's Bridge, choosing musicians that understand and appreciate this traditional style of bluegrass.
Redhead Express + The Walker Boys
August 22, 7 p.m. / $15
The four sisters of Redhead Express hail from Alaska, but now call Tennessee home. They've played more than 2,000 shows to share their music built on raw beauty with exquisite harmonies, thought-provoking lyrics, and melodies that take audiences away.
The Walker Boys comprise a trio of brothers, originally from Alaska, who now hail from middle Tennessee. They spent the past seven years touring with their family, performing at fairs, festivals, and arts centers across North America.
Steep Canyon Rangers + Mountain Park Old Time Band
August 29, 7 p.m. / $20
The Steep Canyon Rangers started as a group of friends playing music together for fun, but after more than a dozen years together, they are instantly recognized as one of the most successful bluegrass bands touring today. The group's recordings and dynamic live performances have earned them many accolades, including Grammy and IBMA Awards. These talented musicians play progressive bluegrass music firmly rooted in tradition, with smart, original songs. They are seasoned and dynamic, never failing to thrill their audience with instrumental dexterity and speed, tight harmonies, and the fun they have on stage.
Mountain Park Old Time Band was born six years ago when a group of friends got together to play the old-time music they love. These friends and talented musicians are Nancy Gentry (bass), Johnny Gentry (multi-instrumentalist), C.T. Janney (washboard and dancing), Roger Stamper (fiddle), and Mark Handy (banjo, vocals, dancing).
Wayne Henderson, Helen White & Herb Key + Stevie Barr & The Mastertones
September 5, 7 p.m. / $10
Wayne Henderson is a National Heritage Award recipient honored for his craftsmanship as a luthier and his renowned finger-style Appalachian guitar playing. His lightning fast, articulate playing style was influenced by Doc Watson and EC Ball, both close friends. He has won more awards at the Galax Old Fiddlers Convention than any other competitor. A singer, fiddler, guitarist and tunesmith, Helen White has toured extensively with Henderson in the States and Europe. Her compositions include works for theater and video projects as well as a Booklist-honored recording of original songs for children. White is the founder and served as regional director of the Junior Appalachian Musicians program from its inception in 2000 to 2013. Herb Key grew up in a musical family in Wilkes County. He has played music for most of his life and has spent more than 30 years making, repairing, and restoring instruments. He grew up listening to old Carter Family recordings, mesmerized by Mother Maybelle's guitar playing.
A fine bluegrass banjo player, Stevie Barr was raised in a family dedicated to making music, and was playing banjo by the age of four. Stevie grew up in his father Thomas' fiddle shop in Galax, Virginia, taking it all in and becoming a talented player in his own right. The Mastertones are a talented young group of bluegrass instrumentalists and vocalists that Barr has assembled to spread the music of Galax, Virginia, and the Blue Ridge Mountains.
Mid-Day Mountain Musicians of the Blue Ridge Music Center: Buck Mountain Band + Willard Gayheart, Bobby Patterson& Scott Freeman + Bill and Maggie Anderson
September 12, 7 p.m. / FREE
Midday Mountain Musicians since 2007, the Buck Mountain Band has entertained Blue Ridge Parkway visitors from all over the world with its spirited renditions of old-time mountain dance music and songs. Bob Taylor draws on a wide variety of sources for his fiddle tunes, while Amy Boucher (banjo) and Harrol Blevins (guitar) add their voices to the lively mix. Other band members include Debbie Larson (bass), Sue Taylor (guitar and ukulele), and Dan Peck (guitar and banjo).
The sweet harmonies of Bobby Patterson and Willard Gayheart flow golden, like honey. The Galax, Virginia, native and the pencil artist from Hazard, Kentucky, have been playing music together for 40 years in various bands, but discovered a whole new depth of artistry through duet singing at the Blue Ridge Music Center. Patterson plays banjo and guitar, and occasionally mandolin. Gayheart specializes in guitar. Scott Freeman grew up in the rich musical area of Mount Airy, North Carolina. As well as being a professional musician, he is a traditional music teacher and music instructor for Pete Wernick, aka Dr. Banjo. Freeman lends his talents to many groups, including The McPeak Brothers, The Crowe Brothers, and The Mountain Home Bluegrass Boys.
Whether they're explaining how to build a guitar or play a Dobro or singing the sweet harmonies of "Fox on the Run," Bill and Maggie Anderson are the heart and soul of the music that was born in the Blue Ridge Mountains. They migrated to Fancy Gap from New York. You'll find them playing Wednesdays at the Music Center throughout the season. Bill builds instruments, including the Dobro that his wife plays and his guitars.
Paul Brown, Terri McMurray, Alice Gerrard & Kay Justice + De Temps Antan
September 19, 4 p.m. / $15
In a career spanning some 50 years, Alice Gerrard has known, learned from, and performed with many of the old-time and bluegrass greats and has earned worldwide respect for her own important contributions to the music. Gerrard is particularly known for her groundbreaking collaboration with Appalachian singer Hazel Dickens during the 1960s and '70s. The duo produced four classic LPs and influenced scores of young female singers. Her superb recordings showcase Gerrard's many talents: compelling, eclectic songwriting; powerful, hard-edged vocals; and instrumental mastery on rhythm guitar, banjo, and old-time fiddle. Her most recent album, Follow the Music, was nominated for a 2015 Grammy Award.
Paul Brown learned his first tunes from his mother, who picked them up from older African-American musicians in Piedmont Virginia in the 1920s. He was hooked, and spent years collecting and documenting traditional music in southwest Virginia and in the stunningly rich Round Peak region around Mount Airy, North Carolina. As a performer, a record producer, and a radio host, Brown has introduced millions to the world of Appalachian music, and helped to ensure its preservation and vitality for future generations. His most recent recordings, "Red Clay Country" and "The Mostly Mountain Boys" (with Terri McMurray and John Schwab) showcase Brown's banjo playing, fiddling, and singing. McMurray started playing banjo uke and banjo when she was pint-size. She cofounded the Old Hollow String Band with Riley Baugus and Kirk Sutphin, and dug deep into clawhammer banjo with Tommy Jarrell in North Carolina.
West Virginia's Kay Justice is a noted singer and guitarist best known for her work in the mid to late '90s with Ginny Hawker.
Using fiddle, accordion, harmonica, guitar, and bouzouki, the Québécois folk music trio De Temps Antan blends boundless energy with the unmistakable joie de vivre found in traditional French-Canadian music. Their sound, anchored by the "tac-tic-a tac" of les pieds (a form of seated clogging found only in French Canada), explores time-honored melodies from Quebec's musical past informed as much by their world travels as their fieldwork and family ties.
Rebecca Frazier and Hit & Run + The Buckstankle Boys
September 26, 4 p.m. / $15
Rebecca Frazier achieved notoriety in the bluegrass world as the first woman ever to appear on the cover of Flatpicking Guitar Magazine, and is widely known for her work with award-winning Colorado-based band Hit & Run. Accompanying Rebecca are a host of world-class acoustic artists: her husband and musical partner John Frazier on mandolin and vocals, bassist Barry Bales, banjo genre-bender Scott Vestal, Dobro genius Andy Hall, fiddle virtuoso Shad Cobb, banjo innovator Ron Block, and, on backing vocals, her longtime Western compatriot, Shelby Means (Della Mae).
Wes Clifton, Seth Boyd, Andy Edmonds, Todd Hiatt, and Tim Eaves are The Buckstankle Boys. They were all born and raised in the Blue Ridge Mountains of Virginia and North Carolina. Having been brought up and schooled in the ways of traditional mountain music, each of them decided to form a group to promote the older sounds of bluegrass and old-time music.
The Steel Wheels + The Buck Stops Here
October 3, 4 p.m. / $15
The Steel Wheels is a band name redolent of steam-powered trains, America's industrial age, and the buggies of the band's Mennonite forebearers. Their initial offering as a committed unit, 2010's "Red Wing," put the newly minted band on the map at the dawn of the folk-music renaissance. The LP spent 13 weeks on the Americana Music Association's Top 40 chart, while the track "Nothing You Can't Lose" was named Best Country Song at the Independent Music Awards.
The Buck Stops Here likes to span American roots music, from old-time fiddle tunes with hard-driving bluegrass banjo to introspective originals with percussion and four-part harmonies.
The Lee Boys + Dark Water Rising
October 10, 4 p.m. / $10
The Lee Boys are one of America's finest African-American sacred steel ensembles. This family group consists of three brothers, Alvin Lee (guitar), Derrick Lee and Keith Lee (vocals) along with their three nephews, Roosevelt Collier (pedal steel guitar), Alvin Cordy Jr. (seven-string bass) and Earl Walker (drums). Each member began making music at the ages of 7 and 8 in the House of God church they attended. Here they underwent a rigorous course of training in a variety of musical instruments, including lap and pedal steel guitars. Born and raised in Miami, each of The Lee Boys grew up in the church where their father and grandfather, Rev. Robert E. Lee, was the pastor and a steel player himself.
Kinship is essential to the members of Dark Water Rising. The ties of kinship within the band's Native American communities helped establish the group in 2008. Today, those same Native roots provide the framework for the band's sound, which they describe as "rocky soul." The band attributes its style of playing and singing to a combination of influences, which range from attending Sunday morning worship services to absorbing the diverse styles and tones of artists like Aretha Franklin, Michael Jackson, and the Bee Gees.
The Blue Ridge Music Center, milepost 213, celebrates the music and musicians of the Blue Ridge. Established by the U.S. Congress in 1985 as part of the Blue Ridge Parkway, the site includes an outdoor amphitheater and indoor interpretive center used to highlight an important strand of American musical culture, which is still alive and thriving in the region. The site is operated through a partnership between the National Park Service and the Blue Ridge Parkway Foundation. In the summer, its beautiful outdoor amphitheater comes alive through a vibrant and diverse concert series. Many of these concerts include activities for the whole family such as flatfoot dance lessons and instrument petting zoos. The Music Center also offers scenic trails for the novice and seasoned hiker, educational programs and the interactive Roots of American Music museum. The center and museum are open May through October. Admission to Visitors Center and the Roots of American Music museum is free. Mid-Day Mountain Music performances are offered free from noon to 4 p.m. daily. For more information, visit www.BlueRidgeMusicCenter.org [2]
The Blue Ridge Parkway Foundation, under a cooperative agreement with the National Park Service and the U.S. Department of the Interior, is the primary fundraiser and trusted steward of the Blue Ridge Parkway. The Foundation is forever committed to preserving the past, enhancing the present, and safeguarding the future of America's Favorite Journey®. We are a strong defender of the Parkway, funding needed projects that enhance and protect the natural, cultural, historic, and recreational qualities that make the Blue Ridge Parkway an American treasure. For more information, visit www.brpfoundation.org [3]