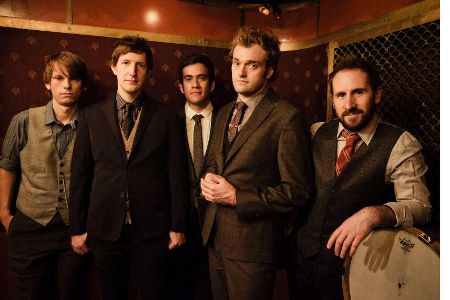 Urbana, IL -- On September 10, 11, and 12, 2015, a stunning display of the world's most remarkable and significant guitarists will gather for the sixth installment of ELLNORA - The Guitar Festival, presented by Krannert Center for the Performing Arts at the University of Illinois at Urbana-Champaign. Situated in a vibrant micro-urban setting, the internationally recognized, biennial event features, "a prodigious array of the world's most distinctive and influential guitarists" (Premier Guitar) from around the globe, including for 2015 artists rooted in Mali, Australia, China, Spain, Palestine, India, Mexico, and from throughout the United States. 2015 performing artists include Punch Brothers, Bela and Abigail Fleck, Rhonda Vincent & The Rage and outstanding artists from almost all genres. This is the festival of the guitar.
ELLNORA is anything but your typical music festival. Krannert Center for the Performing Arts incorporates seven unique, state-of-the-art performance spaces—both indoor and outdoor, both formal and informal—that make it particularly well suited to showcase the festival's impressive range. This year's incarnation of ELLNORA incorporates 11 individually ticketed events including performances by Rodrigo y Gabriela, Punch Brothers, Los Lobos, Bucky and John Pizzarelli, Dan Zanes, and Drive-By Truckers, along with at least 11 free shows (including concerts by John Scofield and Jon Cleary, Valerie June, Andy McKee, Earth, David Hidalgo and Marc Ribot, and Jessica Lea Mayfield). View the full 2015 ELLNORA lineup HERE [1].
For 2015, ELLNORA will once again feature an artist-in-residence. Triple Grammy Award-winning classical guitarist Sharon Isbin is an ELLNORA alum whose incredible career has included over 25 albums and the distinction of founding the Juilliard School's guitar department, in addition to currently helming the guitar department at the Aspen Music Festival. Isbin, whose work spans baroque, Latin, and jazz-fusion, is also a noted author, recipient of Guitar Player's "Best Classical Guitarist" award, and subject of the one-hour documentary Sharon Isbin: Troubadour which will be shown along with a question and answer session featuring Isbin herself at The Art Theater in Champaign the evening before ELLNORA begins.
2011's artist-in-residence Luther Dickinson will also return, this time with brother Cody for an opening night Southern blues set by their North Mississippi Allstars incarnation. The $5 Opening Night Party will also include sets of electrifying sacred steel blues from the AJ Ghent Band, Terakaft's genuine desert-blues rock, John Jorgenson Quintet filling the Amphitheatre with gypsy jazz, and Mia Dyson, one of Australia's "top 25 guitarists" sharing her blues-rock riffs in an open-air set.
ELLNORA, which bears the name of its venue's visionary founder, Ellnora Krannert, provides a vital showcase for some of today's most prominent female artists. In addition to Sharon Isbin and Mia Dyson, female artists for 2015 include Valerie June and her "organic moonshine roots music," the first lady of the banjo Abigail Washburn (alongside husband Béla Fleck), bluegrass virtuoso Rhonda Vincent, Hawaiian hula dancer and chanter Moanalani Beamer (alongside the slack key artistry of Keola Beamer and Jeff Peterson), pipa player Min Xiao-Fen, and noir-rocker Jessica Lea Mayfield, among others.
Originally known as the Wall to Wall Guitar Festival before being rechristened ELLNORA in 2009, the event is organized by Krannert Center's director, Mike Ross, and his staff in collaboration with curator and artistic advisor David Spelman, who is also founder/artistic director of the world-renowned New York Guitar Festival. In the years since its debut, ELLNORA has served as a model for other events in the United States and around the world.