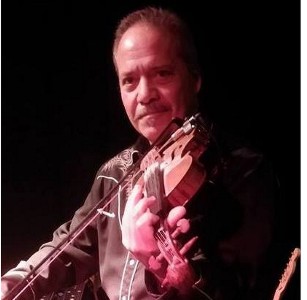 With the release of a brand new album, Highways & Heartaches, just days away, Hammertowne has added another weapon to their arsenal. Doug Bartlett, a seasoned veteran on the bluegrass circuit, joins the Hammertowne band on fiddle and vocals. Doug has cut quite a large path through the years as a member of Doyle Lawson & Quicksilver(recording no less than 3 albums), The Lonesome River Band, The James King Band, and Del McCoury to name a few.
"Doug is one of the most talented people I know." says Dave Carroll of Hammertowne. "Not only is he a top tier musician and singer, he is a joy to be around. His fiddle playing is a absolute perfect fit for our music. We're all just thrilled about the future with Doug in the mix." Ironically, Doug's first show, will be at Hammertownes's Release Celebration of their new Mountain Fever Records release Highways & Heartaches on Saturday, April 11th, in Grayson Kentucky, at "Simply the Best" Bluegrass and Sports hot spot. Sounds like percect timing to me.
Doug has been a professional musician for over 30 years. He has toured all across the United States, Canada and Europe. Winner of two IBMA Awards and two time Grammy Nominee. Besides being a multi-instrumentalist playing guitar, fiddle and other instruments, Doug is also a fine singer-songwriter. He has released his own solo material including the powerful Mama, Will You Call My Daddy
Hammertowne is a mix of seasoned veterans and young, new generation Bluegrass prodigies, and the mix makes for some high powered bluegrass rendering. With multiple industry renowned song writers in the unit, Hammertowne "Hammers Out" a sound that is certainly their own, while still holding fast to the traditions of the pioneers that laid the tracks before them.
From its inception, the group's identity has been defined by a hard-driving style of bluegrass that combines unique instrumentation with a distinctive knack for weaving vocal harmonies. Hammertowne creates their hard driving sound with one foot in the traditional arena to honor those who paved the way before them, and the other in the progressive arena as reflected in their many original songs they write and perform. Help welcome Doug to Hammertowne and get ready for even hotter bluegrass.