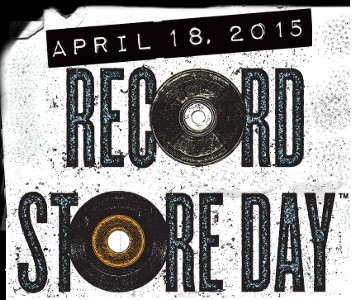 The party in 2015 will once again cement Record Store Day's legacy as the music industry's biggest holiday, celebrating the culture of the independent record store worldwide on Saturday, April 18th. Each year, artists and lables release their vinyl offerings for this special day. The offerings include almost every genre and style and there's always something for bluegrass music fans too.
With music sales in steep decline, only two media formats are on the rise: Streaming and Vinyl! The resurgence in vinyl is a welcome format to both those older people who cherished the format and for the people just getting introduced. The newer "heavy vinyl" in 180 gram to 200+ gram are being added to audiophile libraries across the country.
In addition to the new vinyl releases, new outlets are popping up with viny music displays. Many are in unlikely places such as Whole Foods markets. Our local recycled records store is also selling new releases and more and more artists are offering a limited number of their latest works in the vinyl format.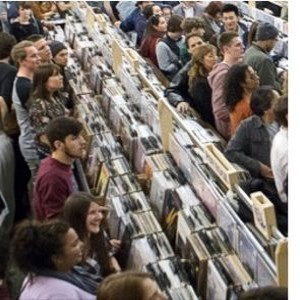 The vinyl releases related to bluegrass music this year include vinyl albums by Steve Earle & The Dukes, Robert Earl Keen, Mumford & Sons, Dolly Parton, Doc Watson, Lee Ann Womack and more. Here is a short list of what you can expect on Record Store Day...
Steve Earle A-side version of "Terraplane" (a song not on the record) and a b-side of Robert Johnsons "Terraplane Blues". Will be mastered at the level of Robert Johnson's original recording. Most of the versions you hear today are remastered and the db's are brought up. This one will be as close to the original 78 as possible. Includes download card.
Robert Earl Keen's much anticipated vinyl issue of the Texas troubadour's breakout 1994 release.
Mumford & Sons' bootleg style 7" hand numbered and hand stamped. First physical release of music from the upcoming album.
Dolly Parton's seminal award winning 1999 bluegrass debut, available for the first time on vinyl.
Doc and Merle Watson's Ballads from the Gap fan-voted vinyl re-issue of the iconic release, re-mastered from the original tapes and presented in 'exact replica' pacakaging.
Lee Ann Womack with her three track acoustic LP Trouble in Mind limited run release.
Check you favorite bluegrass artists as many have current LP offerings today that are not included in the Record Store Day list of releases. So, lets boogie down the boulevard to better ballads, truck down the trail to true tunes, spin the platter, cut the chatter, with another goldy oldy moldy blast outta the past on your turntable! Vinyl is alive and well and once again, growing in popularity.
Buying vinyl is only half the story. The other half is in helping the brick & mortar Mom & Pop record stores to stay open and offering to bring more vinyl to the market. With many younger people getting interested in the "old" format, more albums may be offered. While we will probably never see the supermarket sized stores like Peaches, Record Barn, or Sam Goody's, the fact that interest in vinyl is increasing is a good thing.