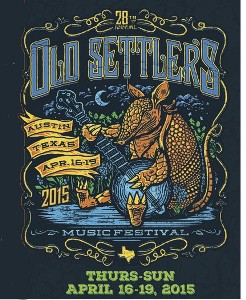 Austin, TX -- The Old Settler's Music Festival, now in its 28th year, has finalized another outstanding schedule of roots, bluegrass and Americana artists for the four-day event. The festival takes place Thursday, April 16 through Sunday, April 19, at the Salt Lick Barbecue Pavilion and Camp Ben McCulloch, in the Texas hill country south of Austin on FM 1826. Performers include the Mavericks, Robert Earl Keen, Ray Wylie Hubbard, Shinyribs, Chuck Prophet & the Mission Express, Sam Bush, JD McPherson, Bruce Robison & Kelly Willis, Hot Rize, Jake Shimabukuro and the McCrary Sisters. (See full schedule below.)
Old Settler's Music Festival offers bluegrass, folk and Americana acts performing on four stages over four days, along with camping in the beautiful Texas hill country. Many music fans return annually for amazing performances by award-winning artists such as Richard Thompson, the Del McCoury Band, Bruce Hornsby, Iron & Wine, Alison Krauss, Bela Fleck and favorite locals such as Patty Griffin, Bob Schneider and Sarah Jarosz. For more information, visit www.oldsettlersmusicfest.org [1].
Tickets are available at oldsettlersmusicfest.org. Discounted single-day and camping and non-camping multiple-day wristbands are still available, but prices go up April 4 — if any are left by then. Discounted platinum camping packages have sold out already, but the four-day packages are still available at full price.
In addition to "real music done right" on four stages, Old Settler's offers workshops, sing-alongs, campground jam sessions, kids' activities, a market area full of unique arts and crafts, specialty foods and brews and of course, the Youth Talent Competition, where the headliners of tomorrow earn early recognition. Workshops will be announced soon. Check the website for updates.
Our free app, downloadable via iTunes or Google Play, allows festivalgoers to create custom schedules, watch videos, obtain artist info and more. Also check out DeliRadio.com to preview this year's artists, and click here to listen to our Spotify playlist. And please support our festival sponsors: Alaskan Amber, American Dream Vacations RV Sales & Rentals, the Austin Chronicle, Austin Voice Data, Cabin 10, Collings Guitars, Curl's RV Rentals, Do512, Duchman Family Winery, Event Production Services, JuiceLand, KGSR-FM, KUTX-FM, Level Best Foundation Repair, Real Ale Brewing Co., Shiftboard, Shweiki Media, Sierra Nevada Brewing Co., SouthStar Bank, Sun Radio, Swan Percussion, TexasOutside.com and Willthing.
2015 OLD SETTLER'S MUSIC FESTIVAL SCHEDULE (artists and times subject to change)
THURSDAY, APRIL 16
Camp Ben McCulloch Stage
4-5:15 p.m. Darlingside
5:35-6:50 p.m. Nora Jane Struthers & the Party Line
7:10-8:25 p.m. Jitterbug Vipers
8:50-10:10 p.m. Bill Kirchen
10:40 p.m. to midnight The Infamous Stringdusters
FRIDAY, APRIL 17
South Star Stage
4-4:45 p.m. 2014 Youth Competition Winner Alexander Nobles
?5:05-6:15 p.m. Darlingside?
6:45-7:55 p.m. Langhorne Slim & the Law ?
8:15-9:45 p.m. Sam Bush
10:30 p.m. to midnight The Mavericks
Bluebonnet Stage
4:15-5:30 p.m. MilkDrive
5:50-7:05 p.m. The Infamous Stringdusters?
7:25-8:40 p.m. JOHNNYSWIM?
9:10-10:25 p.m. Roxy Roca?
10:45 p.m. to midnight Ray Wylie Hubbard
SATURDAY, APRIL 18
South Star Stage
11-11:50 a.m. The Black Lillies
12:10-1:05 p.m. Israel Nash
1:25-2:25 p.m. Pokey LaFarge
2:45-3:45 p.m. Rising Appalachia
4:10-5:25 p.m. The McCrary Sisters
5:45-7 p.m. Hot Rize
7:15-8:15 p.m. Jake Shimabukuro
8:45-10 p.m. JD McPherson
10:30 p.m. to midnight Robert Earl Keen
Bluebonnet Stage
11 a.m. to 1:15 p.m. Youth Talent Competition
?1:30-2:20 p.m. Lauren Shera
2:30-2:50 p.m. Youth Talent Competition winner?
3:10-4:20 p.m. Jeff Austin Band
4:40-5:50 p.m. Bruce Robison & Kelly Willis
6:10-7:25 p.m. Lost Bayou Ramblers
7:45-9 p.m. Dailey & Vincent
9:20-10:30 p.m. Chuck Prophet & The Mission Express
10:50 p.m. to midnight Shinyribs
Discovery Stage
1-5:45 p.m. Workshops to be announced
SUNDAY, APRIL 19
Camp Ben McCulloch Stage
10-10:45 a.m. Sunday service
11-11:45 a.m. Dailey & Vincent?
noon to 12:50 p.m. Wood & Wire
1:10-2:10 p.m. The Defibulators
2:30-3:30 p.m. Pokey LaFarge?
4-5 p.m. Shinyribs