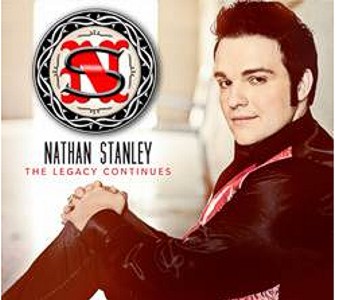 Nathan Stanley's latest release,
The Legacy Continues
is being released tomorrow. The album features Dr. Ralph Stanley and Brad Paisley. A Track-by-Track where Nathan discusses this album is later down in this article.
Rising bluegrass prodigy Nathan Stanley is gearing up for the March 10 re-release of his album, The Legacy Continues. The project is appropriately titled, as the Virginia native is the grandson of bluegrass legend, Dr. Ralph Stanley. The two team up for an epic duet that will leave fans breathless. On the new project, the soulful-grassy singer takes his traditional sound to a whole new level, with another duet with country singer Brad Paisley.
On the album, Stanley brings emotion that will captivate fans everywhere! Tracks such as "Papaw I Love You," which is a song that Nathan wrote for his Grandfather, is sure to connect with music listeners and take them on a journey. Other tracks like "Calling My Children Home" stretch genre boundaries, giving off a Celtic vibe, while maintaining its traditional bluegrass appeal. By the time you throw in the Brad Paisley duet with "Will You Miss Me When I'm Gone," these graceful harmonies that are sure to be stuck in fans' heads for days!
In a Track-by-Track, Nathan Discusses some of this exciting release...
Nathan Stanley is no stranger to success, which is evident with his previous release, Every Mile. The project (which included a vocal cameo from his grandfather, among other artists such as Vince Gill and T. Graham Brown) was able to gain the attention of Christian audiences, as it took home the award for Bluegrass Album of the Year at the 45th Annual GMA Dove Awards. A longtime member of his grandfather's band, The Clinch Mountain Boys, Stanley has released eight solo records during his career thus far. His 2011 disc My Kind of Country album endeared him to Country and Bluegrass fans alike, and also attracted guest appearances from artists such as Marty Stuart, Patty Loveless, Ricky Skaggs, and Del McCoury. He has appeared on a wide variety of television series, such as The Late Show with David Letterman, TBN's Praise The Lord with Jason Crabb, and Song of the Mountains. In addition, his love of the road is something that is very apparent. Since he was two years old, Stanley has performed over 200 dates per year.
The Legacy Continues Track Listing:
"Are You Missing Me"
"Rank Stranger" (with Dr. Ralph Stanley)
"Meet Me By The Moonlight"
"Nobody's Love Is Like Mine5. Will You Miss Me When I'm Gone" (with Brad Paisley)
"Papaw I Love You"
"Let Me Rest At The End Of My Journey"
"Where Could I Go But To The Lord" (with Dr. Ralph Stanley)
"Tears Of A Friend"
"Love Of The Mountains"
"Casualty Of War"
"For All The Love I Had Is Gone"
"Stanley Melody"
"Golden Years"
"Rambling Letters"
"Calling My Children Home"