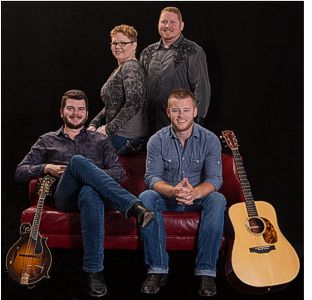 Nashville, TN -- Bluegrass/Americana sensation Nu-Blu are pleased to announce their participation in the inaugural online Bluegrass Roundup on Saturday, Feb. 28 at 6pm EST. They will be performing a special one-hour set, which features every song from their latest album, All The Way. This first-of-its-kind Bluegrass festival will stream the show online HERE [1]. The spectacle is sponsored by JCD Property Management in conjunction with the California Bluegrass Association.
"We've built our career around taking chances and doing new innovative things" said an excited Carolyn Routh. "I hope fans around the world will tune in and be a part of this."
Based on tip amounts, fans will receive the following merchandise:
$10 tip - D/L of All The Way album via iDitty
$20 tip - D/L and signed physical copy of All The Way album
$40 tip - D/L and signed physical copy of All The Way + signed tour poster
Nu-Blu's latest album All The Way was released in Sept. 2014, and spent three weeks inside the top 10 of the Billboard Bluegrass Albums chart. Fueled by its first single "Jesus and Jones," with Rock and Roll Hall of Fame icon Sam Moore, the dynamic pairing performed the song on Huckabee, Imus in the Morning, and The Ronnie Reno Show. Also, their current song "That's What Makes the Bluegrass Blue" with Bluegrass favorite Rhonda Vincent is currently #1 on Sirius-XM Bluegrass Junction's Most-Played Tracks for the month of February.
California Bluegrass Association (CBA) is a California Non-Profit Corporation which was founded in 1975 in the San Francisco Bay Area. The CBA is dedicated to the furtherance of Bluegrass, Old-Time, and Gospel Music in California. The Articles of Incorporation further state that the organization is formed to promote, encourage, foster, and cultivate the preservation, appreciation, understanding, enjoyment, support, and performance of traditional instrumental and vocal music of the United States.
Nu-Blu, based in Siler City in central North Carolina, is comprised of Carolyn, who handles bass and vocals; Levi Austin on vocals and banjo; Austin Koerner, on mandolin; and Daniel, who is the band's Renaissance Man - guitarist, singer, manager, and tour coordinator, among many other roles. The group brings its lively and entertaining version of Americana-bluegrass music to audiences across the nation year-round. Their sound acknowledges the traditional institutions that have shaped it, yet is innovative and daring enough to bring a fresh sparkle to contemporary acoustic music that lands them squarely in the forefront of bands blazing the trail in acoustic entertainment. Influences range from the sounds of original bluegrass pioneers like Earl Scruggs, Jimmy Martin and Lester Flatt to rock bands of the 1980's, and modern contemporary sounds such as Alison Krauss and Union Station. Carolyn's soprano vocal approach might be described as similar to Ms. Krauss, except she carries a phrasing and emotional elegance that shows a clear originality. Daniel and Levi provide inventive singing to fill out the vocal sound, while all four members present instrumental prowess to impress.