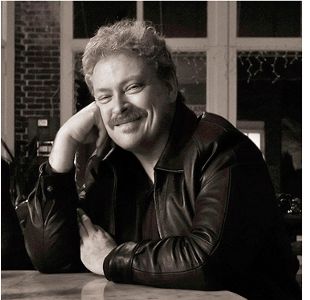 Nashville, TN -- Blue Highway's Tim Stafford was named Guitar Player of the Year at the 41st Annual SPBGMA Awards held at the Sheraton Music City Hotel on Sunday night in Nashville. The award marks two Guitar Player of the Year honors for Stafford and a total of six cumulative SPBGMA honors for Blue Highway. The honor comes on the heels of Stafford earning the 2014 IBMA Songwriter of the Year Award last October in Raleigh.
"It's an honor to be nominated for any award, and it was quite a shock to win this!" said Stafford. "I'm thankful to all the folks who voted and would like to offer congratulations to all the nominees."
A gifted songwriter, vocalist, instrumentalist, producer, author, and teacher, Stafford has won more than awards in over two decades in the music industry. Tim has garnered respect industry-wide from his students, fans and peers, for both his musical ability and his character.
As social media lit up following Tim's win, fellow artist Shannon Slaughter weighed in, "If I had to choose just one guitar man to listen to, I believe it'd be him..."
Blue Highway lead vocalist and bass player Wayne Taylor shared: "We the members of Blue Highway have known for years what an innovative player Tim is. In this day and time, it's hard to develop a style, but Tim has done that. When you hear him play you know who you are listening to."
Stafford's appeal may be summed up best and most simply by fan Dennis Smalley of Virginia as he relayed of Tim's win: "Very deserving of this award. He is a player's player, and one heck of a nice guy!"
Blue Highway have SOLD OUT half their concerts to date in 2015, and have been honored with a career cumulative 24 IBMA Awards, 6 SPBGMA Awards, one Dove Award, and two Grammy nominations.
Upcoming appearances for Blue Highway include performing the National Anthem for the biggest game of the year at Knoxville's powerhouse Thompson-Boling Arena for the Tennessee Vols game with the undefeated #1-ranked Kentucky Wildcats in SEC Men's Basketball action on Tuesday, February 17, at 7:00 pm EST. Concert performances include February 27-28 in Harrisonburg and Tysons Corner, VA, as well as West Coast stops at the Black Oak Casino in Tuolumne, CA, on March 5, and the Bluegrass on the Beach Festival in Lake Havasu City, AZ, on March 6-7, 2015.
For more information on Blue Highway, please go to www.Facebook.com/BlueHighway [1] and www.BlueHighwayBand.com [2].