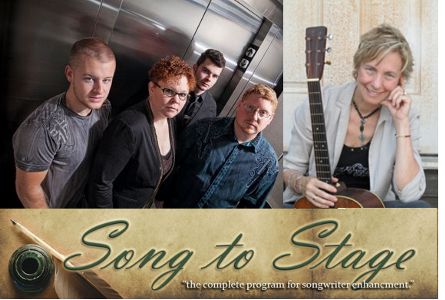 Nashville, TN -- Multi-award winning songwriter and veteran instructor Louisa Branscomb (Founder, Branscomb Mastercraft) and music's fastest rising act Nu-Blu, announce their collaboration to present a first-of-its-kind program called Song to Stage. The program will be hosted at the Dare County Arts Council in Manteo, NC from April 17-19. The workshop includes three days of workshops and three nights of accommodations in the Outer Banks. Reservations are now open HERE [1].
The program is an inspiring, dynamic curriculum filled with skill-building experiences designed to meet songwriters of all levels in their professional careers. Whether participants are working to develop songwriting for fun, personal enrichment, or professional aspirations, Song to Stage will help inspire and support those goals. It covers all aspects ranging from inspiration, craft, recording pitching and performing. It is an exciting, fun-filled, and personally supportive place to find what you are looking for.
The first series offers seasonal workshops to be held in the gorgeous setting of Manteo, NC, where the peace and beauty of the natural world abound. Workshops will border the tourist season, so that you can enjoy both the island's extraordinary beauty as well as the amenities available to you or your family members.
Reserve your spot quickly, class is limited in size! Sign Up Now at www.songtostage.com [2]! Full registration is only $500 and includes 3 days of workshops as well as 3 nights accommodations at the beautiful Bouter Banks -- a $600 value!
Workshop reservations are on a first-come first-serve basis, no reservations will be accepted after March 17th. For more info or questions please call Daniel Routh of Nu-Blu at 336.736.7297 or email at nu-blu@nu-blu.com [3] . Song To Stage is sponsored by SAGA Construction & Development, builder of the most beautiful and noteworthy vacation homes on the Outer Banks.
Louisa's song "Steel Rails" has been recorded by over 275 artists and was said to have brought a new young generation into bluegrass as recorded by Alison Krauss in 1991. "Steel Rails" went on to win SPBGMA Song of the Year and a place on Grammy albums by Alison Krauss and John Denver. More recently, Louis won the 2014 International Bluegrass Music Association's award for Song of the Year for "Dear Sister." Louisa is renowned for her experiential approach to the fundamental elements of good songwriting, Branscomb Mastercraft, which is home based at Woodsong Songwriter Retreat.
Nu-Blu is a nationally known band with a notable list of accomplishments including performances on Huckabee, Imus in the Morning, Fox News Radio, The Better Show, CMA Fest and more. Nu-Blu will be adding special tracks in business, vocals, instrumentation, and recording, with a special feature that includes following one song through from creation to demo recording.