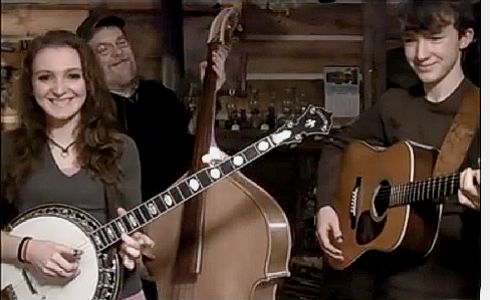 Marteka and William Lake are not unfamiliar in the social media social media scene. Here we have a brother-sister duo that are trying to emulate the sound of other bluegrass artists but, in this case those artists are Earl Scruggs & Lester Flatt! Cybergrass frequently focuses on youth in bluegrass and these two from Hacker Valley, West Virgina are bringing that focus directly on them. Marteka and William, as they're most commonly known, have just released their latest and fourth album,
The Sounds of a Tradition
consisting of 11 tracks of pure traditional bluegrass music. This album is hot on the heels of their 2013 release,
True Grass Revival
.
They learn quick and play well and even write their own material. Marteka, 17 and William, 14, caught the attention of bluegrass fans through their videos on social media sites. They became so popular that they had to quickly put up their fan pages to handle the demand. Posting videos almost daily, their fans are able to satisfy their unending thirst for new material.
The two aren't your typical "beginners" here. William is a hot guitar player that plays in the same manner as Lester Flatt did. While contemporary bluegrass demands the flatpick style, William has mastered the drop-thumb style used by Lester Flatt. This style uses a thumb pick and finger pick that are generally foreign to flatpicking style. William is playing Lester's style and that gives his guitar picking a fresh, traditional and memorable sound. His rhythm is right on and the sound is Flatt out original! He's a true rhythm guitar picker.
I have rarely seen children this young so talented. The bluegrass music business is so fortunate to have these two talented entertainers headed into the field.
 ~ Buddy Griffin
Marteka is usually picking her one of a kind custom Stelliing banjo -- "Marteka Challenge" however, she is also quite capable performing mandolin chops as well. Her approach to Scruggs style shows her true dedication to the music. Her timing, neck work and style reflect her study of Earl's banjo. She has obviously spent hours listening to the little nuances in Earl's playing as she brings that to her playing. When watching her perform, she makes it look easy. Listening to it, however, one soon realizes that it isn't.
While William is the lead vocal, Marteka is comfortably right there with him. Their harmonies just work. Again, the Appalachian Mountain sound comes through as natural as a spring breeze. Individually or together, their vocals express the music the way it was meant to be presented. I met Lester for the first time in the mid '70s and having talked and listened to him then and hearing William today, it is surprising how one can just visualize William in a few years time. He is certainly headed in the right direction to keep the memory of his peer and mentor alive.
Some of the cleanest and purest traditional bluegrass music I have heard in my 60 years of performing.
 ~ Melvin Goins
I'm listening to The Sounds of a Tradition and after listening to bluegrass music from coast to coast and border to border for nearly a half century, I am excited to not only hear this sound again but, even more excited that it is from the young who need to keep this style alive for the next generation. They have the music, vocals, soul and quality to do just that. This is real bluegrass played the right way. This is real music.
Keeping their sound new and fresh while at the same time keeping it "old school" is what sets these two apart. They have chosen a path into the future based on the hard foundations of the past. This is something nobody else seems to be interested in and for which there is a hunger for this new approach to traditional bluegrass music.
Playing fast is a pseudo trademark of bluegrass. So many notes and so little time. A lot of younger artists attempt to play fast but lose the critical timing and soul in the process. From the first cut on their new album, "Yonder Stands Little Maggie" and throughout, it is surprising how mature their music really is. It's dead on and rock solid.
The duo perform with their dad, Charlie, on bass and have recently added Bruce Jones on Dobro. Corrina Rose Logston Stephens handles the fiddle part of their overall sound. These additional musicians certainly help round out the sound. A beautiful aspect of their music that that there is never too much or too little. These young artists have the feel of balance well into their presentation.
Shelly is the group's videographer, recording engineer, booking agent, contact, manager and producer. Family bands usually don't have all these qualities within their own framework. Shelly is just another little surprise in the production of this album. Like how Earl's wife Louise managed Earl and taught the world how to do it right, Shelly is carrying on that tradition as well. From what you see and hear all the way into the behind-the-scenes work, this family steps forward and fills a giant void in today's bluegrass music.
The Sounds of a Tradition Track List
"Yonder Stands Little Maggie"
"Cripple Creek"
"I know what it means to be Lonesome"
"Reuben"
"Sally Ann"
"Head over Heels"
"John Henry"
"When the Angels Carry Me Home"
"Rambling Gambler"
"Sally Goodwin"
"Johnson Ridge Special"
CDs, DVDs, Videos and more are available at http://www.marteka-n-williamlakebluegrass.com/ [1]