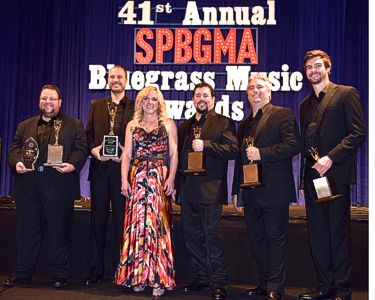 Nashville, TN -- Already one of the most decorated artists in Bluegrass, Rhonda Vincent was named "Entertainer of the Year" at the 41st Annual SPBGMA (The Society for the Preservation of Bluegrass Music of America) Convention & Awards Show in Nashville this past Sunday. In addition to being named "Entertainer of the Year," Vincent, who was inducted into the SPBGMA Hall of Greats last year, took home "Contemporary Female Vocalist of the Year." Earning their title as the most awarded band in Bluegrass Music, Rhonda Vincent & The Rage won "Bluegrass Band of the Year," while band member Josh Williams was honored with the "Master's Gold Award," which commemorates winning "Guitar Performer of the Year" a total of ten times, and band member Hunter Berry took home "Fiddle Performer of the Year."
"It's an incredible moment in time for us. The past few weeks have been a whirlwind, and it doesn't appear to be slowing down any time soon. We are so thankful for the support of our music; the promoters and venues who host our shows, and our friends who join us at the shows. We couldn't do it without you. We appreciate each and every award," said a humbled Rhonda Vincent. She adds, "I am very honored and so proud of the incredible world class musicians that make up The Rage."
Taking a break from winning awards, The Rage hit the stage and performed with legendary Country Music Hall of Fame member Mac Wiseman, prior to closing the show with Rhonda Vincent. There were three additional awards presented by Rhonda in commemoration of her band members' years of service, with another special award honoring their agent Herb Sandker of Upper Management for their record-breaking tour schedule.
Rhonda Vincent has been one of the most consistent recording artists in the world of Bluegrass Music, winning the IBMA "Female Vocalist of the Year" award a remarkable seven consecutive times and walking away with the top honor of IBMA "Entertainer of the Year" in 2001. Vincent's band, The Rage is the most award winning band in Bluegrass music history with over 100 awards. Rhonda Vincent & The Rage maintain one of the busiest schedules in the music business today, recently hitting a personal record number of bookings for 2015.
The Society for the Preservation of Bluegrass Music of America (SPBGMA) is a not-for profit corporation, which sets out to protect this genre of music. They preserve the traditional spirit and art of Bluegrass music, while offering management services for any community desiring to hold a Bluegrass festival. SPBGMA organizes and conducts Bluegrass band competitions. In these events, the instruments must be traditional acoustic instruments. The society encourages professionalism in appearance and showmanship by the performers of SPBGMA events, while also encouraging the support of various Bluegrass publications and associations.