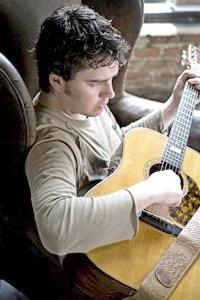 Nashville, TN -- Brandon Rickman announced today that in addition to his performances with the Lonesome River Band, he will also be performing select dates in 2011 and 2012 as a solo artist performing at singer/songwriter shows. His upcoming 3-day Fall Tour in mid-November kicks off in Atlanta, Georgia and wraps up in Asheville, North Carolina. On November 11th, Brandon will be performing with the Lonesome River Band on the TV show Late Night with David Letterman.
Brandon Rickman hails from the farming community of Purdy, Missouri. A product of a musical family, Rickman grew up playing guitar though he picked up the upright bass just hours before playing his first show as a member of the esteemed bluegrass gospel group, New Tradition. Prior to joining the Lonesome River Band, he spent 2001 appearing with award-winning bluegrass singer and songwriter Larry Cordle and Lonesome Standard Time. These great musical experiences have provided Rickman with a wide range of material. The songs he will perform in his solo shows will draw heavily on his original material ranging from lighthearted songs like "I Bought Her a Dog" to powerful gospel and deep and soulful cover tunes like "Rain and Snow".
Rickman's shows include a stop at the Red Light Café in Atlanta, Georgia on November 17th, The Bus Pit in Kingsport, Tennessee on November 18th, and The White Horse Black Mountain, North Carolina on November 19th. Other dates are planned for December 2011 and solo performances are confirmed for 2012. Additional details are available at www.brandonrickman.com [1]
In 2009 Rural Rhythm Records released Brandon's solo album, YOUNG MAN, OLD SOUL. This successful album appeared in WNCW Radio's Top 50 CDs of the Year (2010) and received numerous other honors. Two singles, "Always Have Always Will" and "I Bought Her a Dog" appeared on the Bluegrass Unlimited Top 30 Song chart; and the track, "Wearin Her Knees Out Over Me" won the Strictly Country Magazine's Song of the Year in 2010.
"I look forward taking my solo show to many listening rooms and venues around the country. It will be different from the shows I currently do with the Lonesome River Band as for the most part it will just be me and a guitar." said Rickman. "I'm excited about the upcoming solo tour and also the work I'll be doing with the Lonesome River Band in 2012".
Additional details on Brandon Rickman are available at www.BrandonRickman.com [2].