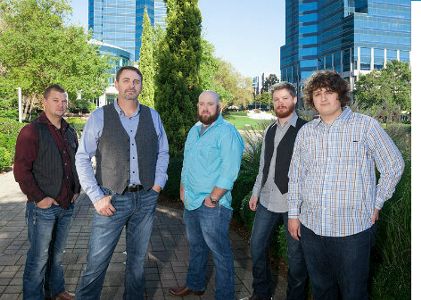 Nashville, TN -- Volume Five will celebrate their new Mountain Fever Records album, Voices at the Station Inn located at 402 12th Avenue South in Nashville on Saturday, February 7. Doors open at 7:00pm and the show will begin at 9:00 pm. Tickets are $12 and can be purchased at the door. Volume Five includes the talents of Glen Harrell (Mandolin & Lead Vocals), Harry Clark (Mandolin & Vocals), Chris Williamson (Bass & Vocals), Patton Wages (Banjo & Vocals,) and Colby Laney (Guitar & Vocals.)
Voices is the band's fifth album and features 12 tracks of carefully selected songs, showcasing the many facets of musical tastes that come from within the decidedly bluegrass ensemble—traditional, classic, and on-the-edge—this CD covers it all. The album features the vocal and instrumental prowess of each V5 band member along with the added talents of Jeff Partin who plays dobro and also contributed three original songs ("Satan's Ridge," "Faithfullly," and the first single, "Crazy Nights").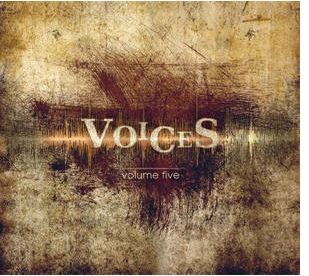 V5 guitarist Colby Laney brought two original songs ("Going Across the Mountain" and "Sam's Gap") while the album is rounded out with cuts written by noted country artists Hal Ketchum, Jedd Hughes, and Dolly Parton, whose classic "Daddy Was An Old Time Preacher Man," is sure to be a standout track with the addition of Rhonda Vincent sharing the vocal spotlight with V5 ring-leader, Glen Harrell. The album is now available for digital download at iTunes, Amazon, and for physical purchase at Volume Five's website [1].
2014 proved to be a stellar year for the band. On the heels of a their well-received southern-gospel CD release, The Day We Learn to Fly, the band earned two IBMA nominations for Emerging Artist of the Year and IBMA Gospel Recorded Performance of the Year for the album's title cut. Volume Five has had great success with their previous releases including their first, Down In a Cell and their second release, Children of the Mountains, which garnered the group their first #1 song, "Anywhere is Home Again." With their third album, Run, they achieved significant Bluegrass Today chart success appearing almost every week of 2013. "Rich Man's Daughter" was the first single from the album which went to #1 only three weeks after it was released. Several other songs from the album climbed as high as #2 and many weeks they have had as many as four songs from the album appearing on the chart at one time.