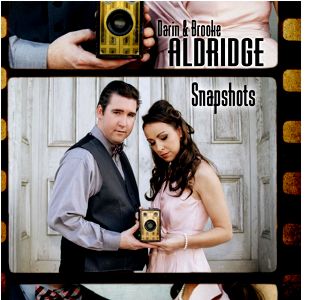 Nashville, TN -- Mountain Home Music recording artists, Darin and Brooke Aldridge, announce the February 17 release of their new album, Snapshots. Snapshots, captures moments in time with the kind of intimacy that has become the hallmark of The Darin & Brooke Aldridge band. Through a musical outlook that is reverent and dynamic, buoyant yet thoughtful, and deeply in tune with the essence of bluegrass, this new collection delivers pleasing slices of life in song.
With Snapshots, Darin & Brooke continue their own tradition of comfortably and naturally balancing a respect for tradition with their engagement in the innovative --- and often challenging --- musical climate today. The album is filled with songs and sentiments that reflect Darin & Brooke's love and faith. Collaborations with special guests enhance the musical experience with the added excellence and perspective of those very special guests.
The clarity and heartfelt emotion in the singing and playing on Snapshots is delivered with care and skill by the band and special guests including Steve McMurry of Acoustic Syndicaqte and Bluegrass Hall of Fame member Doyle Lawson. Sam Bush joins the Aldridge band on "Get Up John," a mandolin tune written by Bill Monroe. "When He Calls" includes harmonies with Ricky Skaggs and famed fiddler, Bobby Hicks joins in on "My Rose of Old Kentucky."
Snapshots is an album filled with virtuosity, musical precision and a sense of history.
Track Listing:
"Get Up John" (Special Guest Sam Bush)
"My Rose of Old Kentucky" (Special Guest Bobby Hicks)
"Annabelle"
"Let's" (Special Guest Doyle Lawson)
"When He Calls" (Special Guest Ricky Skaggs)
"Tennessee Flat Top Box"
"Let It Be Me"
"He's a Coming"
"Better Place" (Special Guest Steve McMurry)
"Will You Be Ready"
"Wait Till the Clouds Roll By"