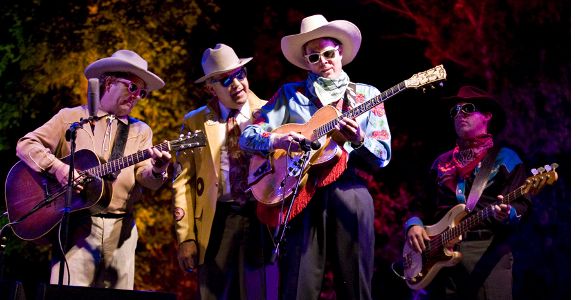 Pagosa Springs, CO -- It didn't take long after Tim O'Brien, Pete Wernick, Nick Forster, and Charles Sawtelle first appeared onstage together in 1978 for the bluegrass music world to realize that the Colorado band, Hot Rize, was something special. By the time they bowed off the stage as a full-time act in 1990, they'd not only climbed to the top of that world as the International Bluegrass Music Association's very first Entertainers of the Year, but their stature was recognized across the board, with a nomination for a then-new bluegrass Grammy, a four-star album review in Rolling Stone, tours across four continents, and a legion of up-and-coming, broad-minded young musicians learning their songs and singing their praises.
So when Hot Rize retired, it was natural for members to go on to distinguished careers of their own. For bassist and multi-instrumentalist Forster, that meant building a blend of environmental concern and musical curation into the popular and influential show, eTown; for lead singer, mandolinist and fiddler O'Brien, recognition as an award-winning Americana and bluegrass master of singing and songwriting; for Sawtelle, a thriving career as guitarist, engineer and producer for a host of artists; and for Wernick, acclaim as a presenter of bluegrass and banjo camps, genre-bending bandleader, and 15-year president of the IBMA.
Rare reunion shows, like the 1996 one captured for the acclaimed So Long Of A Journey CD (2002), kept the flame burning, and when Sawtelle passed away in 1999, the surviving members brought brilliant guitarist Bryan Sutton on board and carried on with occasional appearances, bringing their classic songs and captivating stage show to new generations.
It's no surprise, then, that 24 years after their last studio album, the foursome brings an even deeper strength to bear on their new record, When I'm Free (Ten In Hand/Thirty Tigers). "We've watched bluegrass evolve in the past 25 years, and while we've all been a part of that evolution as individuals, now it's time to bring a new Hot Rize statement to the world," explains O'Brien. You can hear that statement for yourself at this year's Four Corners Folk Festival.
More Four Corners Lineup Additions Announced...
The Oh Hellos, Eddie From Ohio, The Black Lillies and Anne & Pete Sibley have all been added to the Four Corners lineup! See below for the most up-to-date lineup info for both festivals.
Noam Pikelny & Stuart Duncan. What more can be said about two of the greatest bluegrass musicians to ever team up and hit the road, aside from YES PLEASE? In Noam's own words:
"If trios and larger ensembles are just too cluttered for your musical tastes, then this show is for you, as long as you like the fiddle and banjo. Because there is going to be a whole lot of that. But this show won't be purely instrumental - ticket prices would be much higher if that was the case. There will be quite a bit of singing. Stuart is a great singer and I'll be singing as well to provide some harmony vocals and shock value."
Folks, you do NOT want to miss the opportunity to see these legendary players on the Pagosa stage. For a small taste of what to expect, check out this video preview.
Early bird priced tickets are currently on sale through 3/31 (Pagosa Folk 'N Bluegrass) and 5/15 for Four Corners, or while supplies last. Last year the discounted festival & camping tickets sold out before the deadline, so don't wait. For ticket info on both festivals, visit www.folkwest.com [1].