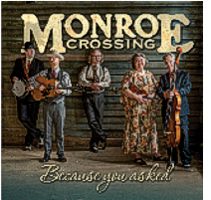 Bluegrass music favorites Monroe Crossing spent 2014 collecting live recordings of their most requested tunes. The band has picked out their favorite cuts and are oh-so-close to releasing a new live Monroe Crossing CD entitled, Because You Asked. The new album will be a live collection of their songs and they hope to have it out real soon. In fact, the band has already shipped the tracks off for pressing!
Named in honor of Bill Monroe, "The Father of Bluegrass Music," Monroe Crossing dazzles audiences with an electrifying blend of classic bluegrass, bluegrass gospel, and heartfelt originals. Their airtight harmonies, razor sharp arrangements, and on-stage rapport make them audience favorites across the United States and Canada.
Based in Minnesota, the group plays an average of 125 shows a year at major venues and festivals, frequently for non-bluegrass audiences. February 2013 marked an important milestone for the group as they made their New York City debut on the stage of Carnegie Hall; they've already been invited back to perform there in 2014!
Monroe Crossing is made up of five very distinct personalities with differing musical backgrounds and tastes, combining for a very unique ensemble sound. They are Derek Johnson: guitar, lead & harmony vocals; Lisa Fuglie: fiddle, mandolin, lead & harmony vocals; Matt Thompson: mandolin, fiddle, baritone vocals; Mark Anderson: bass & bass vocals; and David Robinson: banjo. Their paths crossed through the music of Bill Monroe so they like to say they had a "Monroe Crossing."
Among their many honors, Monroe Crossing was selected to showcase at the 2007 International Bluegrass Music Association Convention and they were inducted into the Minnesota Music Hall of Fame in 2007. The only bluegrass band ever nominated as "Artist of the Year" by the Minnesota Music Academy (MMA), Monroe Crossing won the 2003 MMA "Bluegrass Album of the Year" award. The group also took home four awards — for Female Vocalist, Guitar, Mandolin and Banjo — at the Minnesota Bluegrass and Old-Time Music Association's 25th Anniversary Awards Banquet.
Monroe Crossing has recorded 13 CDs to date. Recent releases include all-Monroe CD, recorded in honor of the 100th anniversary of Bill Monroe's birth, and Joy Joy Joy, showcasing the band's originality and reverence for the bluegrass Gospel tradition. The band issued its "Lucky 13th" CD in 2012: The Road Has No End, named for a lyric in a song by guitarist Derek Johnson.