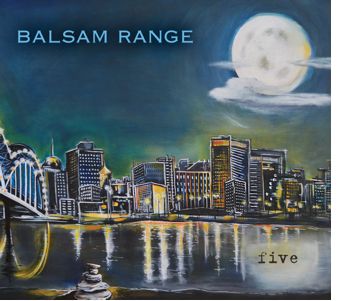 Nashville, TN -- It's been an incredible 2014 for Balsam Range, with several IBMA Awards including the coveted Entertainer of the Year and Vocal Group of the Year honors, sold out shows across the country, and the chart topping album, Five. Entering into new year, Balsam Range has both the #1 song, "Moon Over Memphis" and #1 album, Five, on The Bluegrass Unlimited National Bluegrass Survey Chart for January 2015.
Adding to the accolades, Balsam Range's Five was also named #2 to on the WNCW (Western NC Public Radio) Top 100 List of fan favorites for 2014 and landed on several critics' picks lists on Bluegrass Today.
National media outlet, Pop Matters, included Five on its 2014 Best of Bluegrass list.
The title of Balsam Range's Five acknowledges that the record is the band's fifth release and also reminds us that Balsam Range is comprised of five terrific musicians who form a remarkably cohesive whole. Sure enough, The Range—who was crowned the 2014 IBMA Entertainers of the Year and finished second on our 2014 Best of Bluegrass list—have never sounded tighter than on Five, the band's smoothest and most consistently fine record to date.
 - Steve Leftridge, PopMatters
Five exemplifies Balsam Range as one of the most remarkable bands in Acoustic music. If the goal was to elevate the level of songs, performance, production value, and excitement, then Five surely marks the successful achievement of that goal.
"Papertown was received so well that we were a little anxious about what we could do next," said Tim Surrett, vocalist and bass player for the band. "How do we follow an Album of the Year? We finally just went in there and made the best record we could and had some fun."