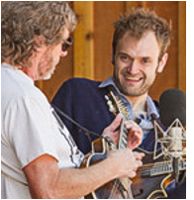 As the sun sets on this Friday before the Winter Solstice, we wanted to share a glowing glimpse into the longest days of the year and the Summer Solstice gathering of Festivarian Nation at the 42nd Telluride Bluegrass Festival (June 18-21, 2015). We can barely contain our excitement... We're honored to present the historic collaboration of legendary artists Ry Cooder, Sharon White and Ricky Skaggs -- a set we've dreamt about for the past 25 years. And making her Telluride debut is 2-time Grammy winner (Country Album of the Year and Country Song of the Year) Kacey Musgraves. Oh my, it's going to be a glorious weekend of music and Colorado sunshine at 8,750'...
Once again we'll be joined by many of the adventurous acoustic virtuosos who have defined Telluride Bluegrass over the past 4 decades: from Sam Bush's 41st year; to his partners in the Telluride House Band (Béla, Jerry, Edgar, Bryan & Stuart); to Peter Rowan and Hot Rize; to the intimate duets of Béla & Abigail, Chris & Edgar, Noam & Stuart; to the inspiring jams of Yonder Mtn String Band, Trampled by Turtles, Leftover Salmon, Punch Brothers, and Greensky Bluegrass.
This year's celebration welcomes back newer friends of Festivarian Nation: the earthy grooves of Australian superstars John Butler Trio, the soulful pop of Lake Street Dive, and founding member of Carolina Chocolate Drops Rhiannon Giddens.
Two of the most famed vocal groups in gospel music history -- Fairfield Four and McCrary Sisters -- join together for a stirring Sunday morning. 4-time BBC Folk Awards' "Best Band" winners Lau make their eagerly anticipated US festival debut. Trout Steak Revival bring their Colorado indie-grass-folk to the Shellman stage after winning last year's band contest. And we'll have many more names to add in the coming weeks.
Presenting the initial lineup for the 2015 Telluride Bluegrass:
Sam Bush Band
Cooder-White-Skaggs
John Butler Trio
Kacey Musgraves
Trampled by Turtles
Telluride House Band
Yonder Mountain String Band
Béla Fleck & Abigail Washburn
Leftover Salmon
Punch Brothers
Hot Rize
Greensky Bluegrass
Lake Street Dive
Peter Rowan Bluegrass Band
Jerry Douglas Band
Chris Thile & Edgar Meyer
Rhiannon Giddens
Rock My Soul featuring The Fairfield Four & The McCrary Sisters
Lau
Noam Pikelny & Stuart Duncan
Trout Steak Revival
Telluride Troubadour & Band Contests
more still to be announced...
Single-day tickets for Thursday and Sunday -- as well as camping -- are still available at shop.bluegrass.com or 800-624-2422.
We just received the great news that family camping will again be available at Telluride High School for the 2015 Telluride Bluegrass. We'll begin selling these camping passes on Thursday, January 8 at 9am MST. Or if sleeping under the stars isn't your thing, lodging is still available in Telluride and Mountain Village from many of our lodging partners.