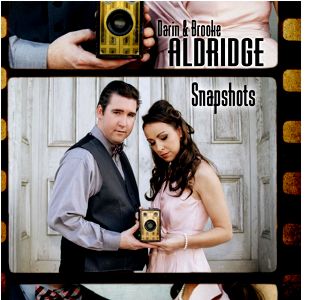 With the holiday season upon us, there will surely be new snapshots with the family and friends, taken to commemorate this joyous time of year. These snapshots capture the special memories in our lives. Darin & Brooke Aldridge's new album, Snapshots, captures these moments in song and shares facets of life through a musical outlook that is reverent and dynamic, buoyant yet thoughtful, and deeply in tune with the essence of bluegrass.
Snapshots is set to release in February 2015. To get a taste of what will be expected on the album, the single "Get Up John" is available now as a download when you pre-order the album on iTunes.
Husband and wife duo Darin & Brooke Aldridge draw on the traditions of their native North Carolina, the savvy of a young, gifted band and their own dedication to ingenuity to create the most mature release of their career with their latest release, Flying.
The duo has placed at the top of the charts on Americana/Roots, SiriusXM, Bluegrass and Gospel charts. They have received multiple nominations from the International Bluegrass Music Association (IBMA) the Society for the Preservation of Bluegrass Music of America (SPGBMA) and Inspirational Country Music (ICM). The music video "Wildflower" is being featured on CMT and CMT Edge and GAC. Their TV appearances include PBS, Great American Gospel, The Bluegrass Road, Presley's Country Jubilee, RFD-TV, Rural-TV, Daystar Network, Blue Highways TV, Song of the Mountains and Music City Roots.
Both highly acclaimed vocalists in their own right, Darin and Brooke combine rich harmonies with impeccable musicianship to create the unmistakable sound that has made them one of the hottest young acts in acoustic music and they've surrounded themselves with a band of equally amazing pickers. Darin spent 6 years as a member of the acclaimed County Gentleman and is a highly sought-after multi-instrumentalist. Brooke has been lauded for having one of the most powerful voices in music of any genre.