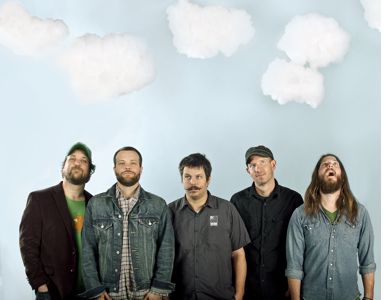 Abingdon, VA- Barter Theatre and the Abingdon Music Experience team up for the 3rd annual January Jams Series, January 9th through 29th. Grammy Award winning and nationally recognized artists will perform a total of 7 concerts to run on Fridays and Saturdays during January. With beloved icons like The Blind Boys of Alabama or Grammy Award-winner Mavis Staples, as well as the hottest up-and-coming artists like Ben Sollee and Greensky Bluegrass and more, the series offers something for everyone.
All concerts will be performed at Barter Theatre in downtown Abingdon. The 500-seat venue provides a uniquely intimate concert experience, and now offers beer and wine for concert-goers to enjoy during the show in theatre-safe cups.
"Barter Theatre is such a special venue," explains Sara Saavedra Cardinale, Special Events Coordinator for the ACVB. "The previous two years have been met with great reviews, and highlights Abingdon as a music destination for visitors and residents alike."
January Jams is brought to you in part by sponsors Eastman Credit Union, Walling Distributing and Ecological Energy Systems.
Ticket prices range from $22 to $49, and discounts are available with a weekend pass, which includes both Friday and Saturday night shows. Overnight packages offer a winter weekend getaway, with two concert tickets plus one night in a convenient local hotel.
Doors open at 7:15 and the shows will start at 8pm. For more information, tickets or packages, call Barter Theatre Box Office at 276-628-3991 or go online at www.bartertheatre.com [1]. A complete lineup of the 2015 Abingdon Music Experience series can be found online at www.abingdonmusicexperience.com [2].
JANUARY JAMS 2015 SCHEDULE
Friday, January 9th- Jill Andrews with Dom Flemons Trio
Jill Andrews began her music career in 2004 by co-founding the alt-country group, the everybodyfields. After releasing three albums and touring the country with the band, she decided to make a go of it on her own. And in 2009, she released her self-titled EP, followed up with the full-length album, The Mirror in 2011. Jill has been on the road with The Avett Brothers and many other super talented folks. Her songs have been showcased on such shows as Grey's Anatomy, Nashville, Hart of Dixie, American Idol...etc. She just finished recording a new record, "The War Inside," and is working on an upcoming release date for late 2014/early 2015. Jill currently resides in beautiful Nashville, TN.
Dom Flemons is the "American Songster," pulling from traditions of old-time folk music to create new sounds. Formerly part of the Carolina Chocolate Drops, which he co-founded with Rhiannon Giddens and Justin Robinson, he has played at a variety of festivals spanning from the Newport Folk Festival to Bonnaroo, in addition to renowned venues such as the Grand Ole Opry. In July 2014, Dom released his third solo record with Music Maker Relief Foundation, and his first since leaving the Carolina Chocolate Drops. Prospect Hill finds Flemons digging deeply into ragtime, Piedmont blues, spirituals, southern folk music, string band music, jug band music, fife and drum music, and ballads idioms with showmanship and humor, reinterpreting the music to suit 21st century audiences. He was featured on NPR's Fresh Air with Terry Gross and his new album has received praise from The Boston Globe, Paste Magazine, Living Blues Magazine, and more.
Saturday, January 10th – David Bromberg Quintet with Scott Miller
Dubbed the Godfather of Americana, Bromberg's career started back in the 60s in Greenwich Village. He quickly became a first-call, "hired gun" guitarist for recording sessions, ultimately playing on hundreds of records by artists including Bob Dylan (New Morning, Self Portrait, Dylan), Link Wray, The Eagles, Ringo Starr, Willie Nelson, and Carly Simon. An unexpected and wildly successful solo spot for 600,000 concert goers at the 1970 Isle of Wight Festival in Great Britain led to a solo deal with Columbia Records, for whom David recorded four albums. His eponymous 1971 debut included "The Holdup," a songwriting collaboration with former Beatle George Harrison, who also played slide guitar on the track. David also met the Grateful Dead and wound up with four of their members playing on his next two albums.
Bromberg fans will find blues, bluegrass, gospel, folk, Irish fiddle tunes, pop and English drinking songs happily coexisting as they can only on a Bromberg album. For newcomers, Only Slightly Mad will be an introduction to an astonishing performer whose range and musical depth have delighted devoted audiences for over forty years and will for many years hence.
Local favorite, Scott Miller, will open in support of David Bromberg. Garden & Gun has said of Miller, "Miller tells stories better than most novelists. His intuitive lyrics hide universal heartbreak behind humor. His empathy is unsurpassed. He bestows dignity on dirt, elevates our pettiest concerns to poetry. He makes himself and everyman when he is anything but. A single listen reveals how Miller is exceptional, with a delivery so piercing and true you hardly notice how thoroughly you've been shot through. See him sing live once, and you'll never feel lonely again."
Friday, January 16th – Heritage Blues Orchestra with Holy Ghost Tent Revival
The grit of low-down country and urban blues with the bold brass of New Orleans; the hand-clapping fervor of gospel punctuated with fiery postmodern, jazz-infused horn arrangements; the haunting cries of work songs and pulsating drums that reach back to the real roots of it all. You'll journey across the Middle Passage, be driven down Highway 49 from Clarksdale to New Orleans, go from chain gangs and juke joints to orchestra pits, church pews and even back porches. HBO's music is an inspiring testament to the enduring power, possibilities and boundless beauty of African-American music.
Holy Ghost Tent Revival is a six-piece rock & roll band from North Carolina, driven by an exhilarating live show that has uplifted audiences since the band formed in 2007. For the past seven years, they have been honing their unique sound, which NPR describes as that of a "soul-rock horn band that recalls 60s and 70s classic-rock influences such as The Band and The Flying Burrito Brothers, contemporary indie-rock acts like Dr. Dog, and New Orleans brass-band jazz."
Saturday, January 17th – The Blind Boys of Alabama with Jarekus Singleton
Nearly seventy-five years after they hit their first notes together, the Blind Boys of Alabama are exceptional not only in their longevity, but also in the breadth of their catalog and their relevance to contemporary roots music. Since 2000, they've won five Grammys and four Gospel Music Awards, and have delivered their spiritual message to countless listeners. "We appreciate the accolades and we thank God for them," says Jimmy Carter, a founding member and the Blind Boys' leader for five years now. "But we're not interesting in money or anything other than singing gospel. We had no idea when we started that we would make it this far. The secret to our longevity is, we love what we do. And when you love what you do, that keeps you motivated.
At just 29 years old, Jarekus Singleton is a musical trailblazer with a bold vision for the future of the blues. Springing from the same Mississippi soil as Charley Patton, Muddy Waters and B.B. King, Singleton's cutting-edge sound—equally rooted in rap, rock and blues traditions—is all his own. He melds hip-hop wordplay, rock energy and R&B grooves with contemporary and traditional blues, turning audiences of all ages into devoted fans. With his untamed guitar licks and strong, soulful voice effortlessly moving from ferocious and funky to slow and steamy to smoking hot, Singleton is a fresh, electrifying bluesman bursting at the seams with talent.
Friday, January 23rd – Mountain Stories - Ben Sollee & Special Guests David Wax Museum with Cereus Bright
For listeners just discovering Ben's music, you'll find that there's a lot more to it than songs. Over the 6 years following the release of his debut record, Learning to Bend, Sollee has told an unconventional story with his rugged cello playing. Like his contemporaries Chris Thile and Abigail Washburn, Sollee's music is difficult to pin down. Following a performance at the Lincoln Center's American Songbook series, the New York Times remarked how Sollee's "…meticulous, fluent arrangements continually morphed from one thing to another. Appalachian mountain music gave way to the blues, and one song was appended with a fragment from a Bach cello suite, beautifully played." It's Ben's quality of narrative and presence on stage that unifies his musical influences. Special guests, David Wax Museum, will accompany Sollee on stage for this special performance dubbed "Mountain Stories". David Wax Museum have been featured on NPR and festivals all over the country, earning them fame for their Mexican-folk style of playing.
Saturday, January 24th – Greensky Bluegrass with The Last Bison
The five members of Greensky Bluegrass have forged a defiant, powerful sound that, while rooted in classic stringband Americana, extends outwards with a fearless, exploratory zeal. The tension and release between these components – tradition and innovation, prearranged songs and improvisation, acoustic tones and electric volume – is what makes them so thrillingly dynamic, in concert and on record. That their sound is so seamless, so organic, is testament to Greensky's enduring vision and tireless dedication. Since their first rumblings at the start of the millennium, they have emerged as relentless road warriors, creating a captivating live show while at the same time developing a knack for evocative, disarming songcraft.
In 2012 The Last Bison seemingly rose from the marshes of southeastern Virginia to captivate the national music scene with a rare blend of music that NPR dubbed, "Classical influenced southern folk rock." Having drawn comparisons in the past to indie superstars the likes of Mumford & Sons, The Decemberists, and Fleet Foxes, their most recent project harvests a more dynamic, and anthemic sound from the soil of their folk roots.
This will be a special extended show, doors will open early at 6:45 and the show will start at 7:30pm. Greensky will play 2 extended sets.
Thursday, January 29th – Mavis Staples with Cody ChesnuTT
She is, simply, a Legend. For more than sixty years, from her early days with The Staples Singers to her recent 2013 Grammy Award, Mavis Staples has been a legend of the Gospel and Blues worlds. With her bold new album, One True Vine, the legendary vocalist adds a remarkable new chapter to an historic career. Staples is a Rock and Roll Hall of Famer, a Grammy Lifetime Achievement Award winner, and a National Heritage Fellowship Award recipient. VH1 named her one of the 100 Greatest Women of Rock and Roll, and Rolling Stone listed her as one of the 100 Greatest Singers of All Time.
Cody ChesnuTT is a soul troubadour whose frank, socially conscious ruminations on life continue to challenge popular notions of what modern soul music can look and sound like. A song from The Headphone Masterpiece was re-tooled as "The Seed 2.0" for the Roots' seminal album Phrenology, exposing Cody's music to a wider mainstream audience. The song was nominated for two moonman statuettes at the 2003 MTV Video Music Awards, and his own album was nominated for the prestigious Shortlist Music Prize that same year. He opens with a rare, solo acoustic performance at the historic Barter Theatre.