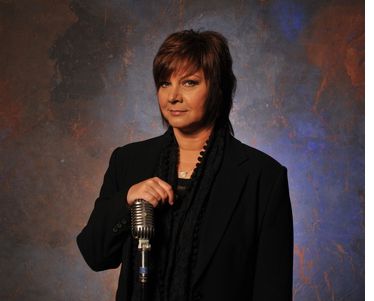 Nashville, TN -- Dawn Sears, 53, stellar vocalist and member of Rounder Record's 4-time Grammy-nominated band The Time Jumpers, died Thursday night, December 11. Diagnosed with lung cancer in February 2012, Sears fought the disease ferociously and championed efforts for lung cancer research. In addition to having been a Time Jumper, she was also a long-time member of Vince Gill's touring band. She is survived by her husband, the fiddler and fellow Time Jumper Kenny Sears and daughter Tess. Funeral arrangements are pending.
Sears began her career in 1990 with the album What a Woman Wants to Hear on Warner Bros. Records. The album produced three minor singles. Because of her debut album's poor performance, Sears had decided to leave the country music scene. However, she later received a call from Vince Gill, who had asked her to join his road band as a harmony vocalist.
In addition to singing harmony on Gill's 1993 album I Still Believe in You, Sears provided duet vocals on the track "An Out of Control Raging Fire" on Tracy Byrd's 1994 debut album. In 1994, she was signed as the first act on Decca Records' newly revived country music branch. Her second album, 1994's Nothin' But Good, was issued on Decca, and its lead-off single, "Runaway Train", entered the country music charts. Other singles from the album were unsuccessful, and Dawn exited Decca's roster not long afterward. A self-titled album was released independently in 2002. Sears returned to her work as a backup vocalist for Gill. She made appearances on several of Gill's albums, including his 2003 compilation Next Big Thing. Sears also performed in The Time Jumpers.
In February 2012, Sears was diagnosed with lung cancer, which was diagnosed as Stage 3B in March 2013. She died in Gallatin, Tennessee on December 11, 2014, aged 53. Sears is survived by her husband (and Time Jumpers bandmate), Kenny Sears, and their daughter, Tess.
---
The Time Jumpers have released a statement regarding the death of their longtime friend and bandmate Dawn Sears:
"Dawn was a beautiful woman, a loving mother and wife, a ferocious spirit who fought to the end with grace and dignity. She was wickedly funny, generous with her time and compassion, and, of course, one of the most boundlessly talented singers any of us have ever heard. Her spirit is free now and she sings among the stars." The band will not be making its regular Monday night appearance at 3rd & Lindsley in Nashville tonight.
Funeral arrangements have been announced for the powerhouse vocalist who was also a member of Vince Gill's touring band. Sears died on Thursday (Dec. 11) after a long battle with lung cancer. A link to her complete bio is listed below.
Services will be held at: Hendersonville Memory Gardens 353 Johnny Cash Parkway Hendersonville TN 37075 Wednesday, December 17: Visitation will be from 5:00pm-8:00pm Thursday, December 18: Visitation at 10:00am and Service at 11:00am In lieu of flowers, donations to lung cancer research can be made at www.dawnsearsandfriends.com [1]
A link to her full bio can be found at: http://mediakits.concordmusicgroup.com/p/the-time-jumpers-2/individual-b... [2]