The premier guide to the lives and work of bluegrass icons Ralph and Carter Stanley will be released this January by the University of Illinois Press as part of their Music in American Life series. The 312 page book will by Gary Reid will include a foreward by Neil v. Rosenbert. Included will be a full discography and 51 black & white photographs.
In 1946, the Stanley Brothers embarked on a career that helped define and shape the creation of bluegrass music. Carter Stanley, whom Bill Monroe called "the finest natural lead singer there ever was," wrote emotionally wrenching songs interpreted in harmony with brother Ralph's haunting high tenor and voices from members of their band, the Clinch Mountain Boys.
The Music of the Stanley Brothers brings together forty years of passionate research by scholar and record label owner Gary B. Reid. A leading authority on the Stanleys, Reid augments his own vast knowledge of their music with interviews, documents ranging from books to folios sold by the brothers at shows, and the words of Ralph Stanley, former band members, guest musicians, session producers, songwriters, and bluegrass experts. The result is a reference that illuminates the Stanleys' art and history.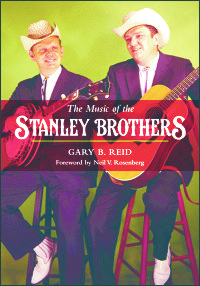 It is all here: dates and locations; the roster of players on well-known and obscure sessions alike; master/matrix and catalog/release numbers, with reissue information; a full discography sorting out the Stanleys' complex recording history; the stories behind the music; and exquisitely informed biographical notes that place events in the context of the brothers' careers and lives. Monumental and indispensable, The Music of the Stanley Brothers provides fans and scholars alike with a guide for immersion in the long career and breathtaking repertoire of two legendary American musicians.
"Likely to become the definitive work on the music made by this pioneering bluegrass band. An enjoyable work for any Stanley Brothers fan, and absolutely essential for everyone who desires to understand the development of bluegrass." --Thomas A. Adler, author of Bean Blossom: The Brown County Jamboree and Bill Monroe's Bluegrass Festivals
"The Stanleys recorded in many different places, their supporting musicians changed frequently, and . . . the sources of their material can be a bewildering labyrinth. Gary Reid has untangled this labyrinth and everything else connected with it with admirable dexterity, though one cannot say he has done it easily: his book is the result of decades of hard work. . . . A splendid work of scholarship."--John Wright, author of Traveling the High Way Home: Ralph Stanley and the World of Traditional Bluegrass Music
Gary B. Reid is the founder and head of Copper Creek Records, a label specializing in bluegrass and old-time music, and is a three-time winner of the International Bluegrass Music Award for best liner notes.