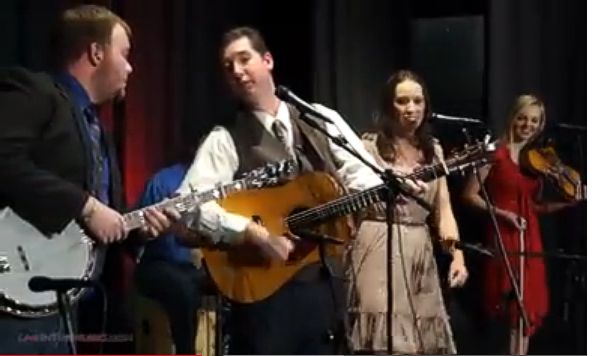 Nashville, TN --- At a recent appearance at the Joy Theater in Kings Mountain, NC, Darin and Brooke Aldridge delighted the audience by putting an acoustic twist on the hit pop song, "All About That Bass."
"It's just one of those catchy songs that you can't get out of your head," Brooke says. "We were just playing around with it at rehearsal one day and decided it would be fun to throw into a show as a surprise. I'm not sure who was more tickled by the guys doing back-up, the audience or me!"
The bubble-gum pop tune was released earlier this year by Meghan Trainor and quickly became a pop sensation. With a positive message about body image that resonates with young women, the lyrics tell listeners, "Every inch of you is perfect from the bottom to the top." Trainor, however, may never have imagined a banjo break on her hit song. In just a week, the video has had well over 7,000 views.
With five albums to their credit, Darin and Brooke have an unmistakable sound that has garnered multiple award nominations for the husband and wife duo and taken them to the top of the radio charts in Americana/Roots, Bluegrass and Gospel. Their latest album is Flying (Organic Records).
Husband and wife duo Darin & Brooke Aldridge draw on the traditions of their native North Carolina, the savvy of a young, gifted band and their own dedication to ingenuity to create pleasing and fresh acoustic music.
The duo has placed at the top of the charts on Americana/Roots, SiriusXM, Bluegrass and Gospel radio. They have received multiple nominations from the International Bluegrass Music Association (IBMA) the Society for the Preservation of Bluegrass Music of America (SPGBMA) and Inspirational Country Music (ICM). The music video "Wildflower" is being featured on CMT and CMT Edge and GAC. Their TV appearances include PBS, Great American Gospel, The Bluegrass Road, Presley's Country Jubilee, RFD-TV, Rural-TV, Daystar Network, Blue Highways TV, Song of the Mountains and Music City Roots.
Both highly acclaimed vocalists in their own right, Darin and Brooke combine rich harmonies with impeccable musicianship to create the unmistakable sound that has made them one of the hottest young acts in acoustic music and they've surrounded themselves with a band of equally amazing pickers. Darin spent 6 years as a member of the acclaimed County Gentleman and is a highly sought-after multi-instrumentalist. Brooke has been lauded for having one of the most powerful voices in music of any genre.