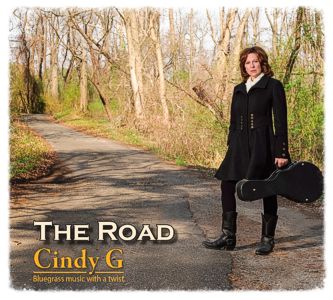 Nashville, TN -- Bluegrass Singer-Songwriter Cindy G has made the single "444 Chicken Bone Road" from her critically acclaimed album
The Road
available for the first time to radio and is now seeking bluegrass adds. Currently working on her upcoming 2015 release Train of Thought with producer Jim Van Cleve and all-star bluegrass band Rob Ickes, Bryan Sutton, Aaron Ramsey, Scott Vestal and Todd Phillips, she also offers her Christmas song "Raise Your Voices," a secret track from the upcoming album.
Cindy Giejda, known professionally as Cindy G, has an unconventional love affair with bluegrass music. She was a flatpicking teenager in the northernmost reaches of Appalachia, playing in local jams where she fell in love with Old and In The Way, John Prine, Doc Watson, and John Hartford, but as she found herself moved by R&B and rock'n'roll, she plugged in her guitar and started playing in cover bands, singing everything from Aretha Franklin to Sheryl Crow, and playing Wild Cherry and Santana covers, while simultaneously establishing herself as a songwriter in the greater Pittsburgh, New York City and New Jersey area for many years.
However, with tinnitus ringing in her ears and a new family to take care of, Cindy decided to take a hiatus from live music, not even touching an instrument for 5 or 6 years. But she couldn't shake her love for bluegrass, and got hooked on the Jim Van Cleve-produced Carrie Hassler and Hard Rain album, and thought, "Wow, this is the kind of bluegrass I would want to play." During that time, her father, a fiddle player, passed away and left behind a mandolin she had purchased for him shortly before his death. She picked up and played that mandolin, and quickly became a crowd favorite at Wilmington DE's Winterfest, Wind Gap Bluegrass Festival in Pennsylvania, Albert Music Hall in Waretown, NJ, and BOTMA (Bluegrass and Old Time Music Association) in Little Silver, NJ.
As she continued writing and performing original bluegrass songs in the New Jersey, Pennsylvania, and Delaware areas, she enlisted the help of local musicians and friends to put together her debut album The Road (2012), a critically acclaimed collection of originals and respectful traditional covers. Bluegrass Unlimited praised Cindy on the album as "a forceful and confident singer," acknowledging that, "story-songs seem to be a strength of hers." The single "444 Chicken Bone Road," is now available to radio for the first time and the music video, filmed in the picturesque country backdrop of Somerset, Pennsylvania is now being broadcast nationally and internationally.
Cindy G's bluegrass path has come full circle since releasing The Road; a friend of Cindy's got the album into the hands of Mountain Heart's Jim Van Cleve, the same producer who originally inspired Cindy to pick up an instrument again and pursue a career in bluegrass. Impressed by what he heard, he not only offered to produce her next album, but enlisted a bluegrass all-star band to play on it, including multi-IBMA award winners Rob Ickes on dobro, Bryan Sutton on guitar, Aaron Ramsey on mandolin, Scott Vestal on banjo, Todd Phillips on bass, and Jim himself on fiddle.
Train of Thought, available spring of 2015 on Blue Road Records, will feature original story-songs, a rip-roaring bluegrass co-write with 2014 IBMA Song of the Year writer Louisa Branscomb, and moody takes on bluegrass classics. Now Cindy also offers a combination teaser/holiday single, the album's secret track "Raise Your Voices" (available on CDBaby) – A sacred and reflective Christmas song featuring Sutton, Ramsey, Vestal, Phillips, and Van Cleve.