---
IBMM Mandolin Camp AllStar Faculty Concert Tonight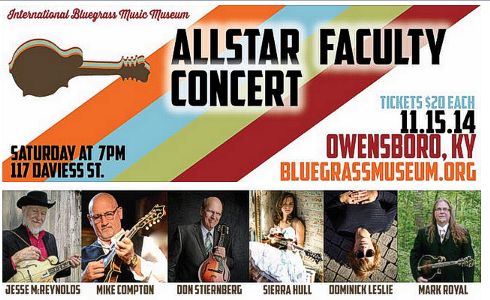 Owensboro, KY -- This Saturday night's International Bluegrass Music Museum's (IBMM) AllStar Mandolin Faculty Concert will feature the finest in mandolin stylists, playing both individually and in various ensembles to create a memorable, once-in-a-lifetime event. International Bluegrass Hall of Fame member Jesse McReynolds, jazz master Don Stiernberg, this year's IBMA Emerging Mandolinist of the Year Dominick Leslie, Sierra Hull, Mark Royal and Mike Compton.
The concert is part of the annual IBMM Bluegrass Mandolin Camp. Hosted at the Museum - 117 Daviess Street. Doors open at 7:00 pm; Tickets are $20. Purchase online or by calling the Museum - 270-926-7891 Joining the IBMM three day program are some of Bluegrass music's most talented musicians and teachers who will be participating in the faculty performances:

Mike Compton

Many know Mike from the Nashville Bluegrass Band, John Hartford Stringband, or as the featured mandolin player on "O Brother, Where Art Thou". Mike returns as Director of the IBMM Mandolin Camp - his 9th straight year imparting Monroe-style knowledge to mando campers.
 

Jesse McReynolds

One of the greatest mandolinists of all time, a Bluegrass Hall of Fame member, and constant trend-setter in Bluegrass Music, Jesse joins the IBMM staff to teach his unique style of cross-picking, and provide insights into historical mandolin techniques from a life-time career in music.
 

Don Stiernberg

While still in his teens, Don learned to play the mandolin from the innovative virtuoso Jethro Burns, who guided him into a lifelong career in music. A leading exponent of jazz mandolin style and band leader of the Don Stiernberg Trio, Don has eight personal recordings, and appears on others by a variety of artists in all styles.
 

Sierra Hull

Band leader Sierra Hull attended Berklee College where she refined the skills she now teaches to others. Sierra has traditional bluegrass sensibility and skill that defies her age. Already having presented numerous mandolin workshops alone and with other mandolin virtuosos, Sierra brings a youthful slant to bluegrass mandolin applauded by veterans as well.
 

Dominick Leslie

Whether writing a new piece, learning a tune or performing with his confreres, Dominick has an infectious love of music that inspires others to excel with the same passion.
Dominick has performed the last three years at ROMP and given mandolin workshops each year that have been highly regarded by all attendees.
 

Will Kimble

Born in 1969, luthier Will Kimble fell in love with mandolins in 1997, and began building in 2000. His father, Fred Kimble, taught Will how to build and still works with him to this day. A favorite at IBMM camp, Will continues to provide mandolin repair, advice, and construction and care sessions at mando camp.
 
---
Source URL: http://cybergrass.com/node/4191
Links
[1] http://cybergrass.com/taxonomy/term/169
[2] http://cybergrass.com/taxonomy/term/1838
[3] http://cybergrass.com/taxonomy/term/4264
[4] http://cybergrass.com/taxonomy/term/1448
[5] http://cybergrass.com/taxonomy/term/1970
[6] http://cybergrass.com/taxonomy/term/1110
[7] http://cybergrass.com/taxonomy/term/320
[8] http://cybergrass.com/taxonomy/term/4265
[9] http://cybergrass.com/taxonomy/term/198
[10] http://cybergrass.com/taxonomy/term/4266
[11] http://cybergrass.com/taxonomy/term/4267