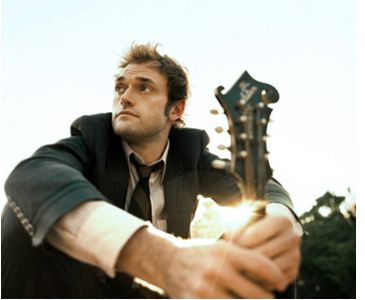 Grammy Award-winning musician Chris Thile won the 2014 Outstanding Alumni in Fine Arts award from his alma mater, presented at the 6th Annual A Taste of the Arts Dinner and Auction at Murray State University on October 9, 2014. Thile, of Punch Brothers and Nickle Creek, is a mandolin virtuoso, composer, and vocalist. In a review of his latest release, Who's Feeling Young Now?, London's Independent called Thile "the most remarkable mandolinist in the world." The MacArthur Foundation echoed that assessment when it named Thile one of its 23 MacArthur Fellows for 2012. In honoring Thile, the MacArthur Foundation noted that his "lyrical fusion of traditional bluegrass with elements from a range of other musical traditions is giving rise to a new genre of contemporary music."
A child prodigy, Thile first rose to fame as a member of the Grammy Award-winning trio Nickel Creek. Thile also won a 2012 Grammy for Best Folk Album for The Goat Rodeo Sessions, recorded with cellist Yo-Yo Ma, violinist Stuart Duncan, and bassist Edgar Meyer. As a soloist, Thile has released five albums, including his most recent solo recording released in 2013, Bach: Partitas and Sonatas, Vol.1.
"He is a model of artistry, creativity, innovation, and entrepreneurship," said Dr. Pamela Wurgler, chair of the Department of Music. "As a musician and composer, Chris is 'hot' right now. Everyone wants to hear him perform; they want to hear his compositions too. He is an inspiring model for our students."
Thile's parents, Scott and Kathy Thile, of Murray, accepted the award on behalf of their son. In a taped acceptance speech, Thile credited Murray State with influencing his identity as a musician. He praised the Department of Music as an environment that fostered and encouraged curiosity, and he noted the faculty's open-mindedness, mentioning specifically his time with Dr. Stephen Brown. Thile described this award as incredible and emotional because of how much his time at Murray State means to him. Thile is working with the University to coordinate a visit to campus in 2015.
The Outstanding Alumni in the Fine Arts Award is presented annually at A Taste of the Arts Auction and Dinner Event. An inspiring evening for arts enthusiasts, this event is a unique and entertaining auction gala showcasing performances by Murray State's most talented students in music and theatre with fine dining as well as silent and live auctions. All proceeds benefit Murray State University scholarships in art, music, and theatre. The 2014 event was held on Thursday, October 9 on the campus of Murray State University, where over $23,000 was raised in support of arts scholarships.
"The Taste of the Arts event is a wonderful means of scholarship support for our fine arts students," said Ted Brown, Dean of the College of Humanities and Fine Arts. "There is fierce competition for these talented young people, and scholarship aid is critical not only in bringing them to MSU, but also in allowing these gifted students to focus on developing their abilities rather than on working just to survive. We are very grateful for all the ongoing efforts and gifts that make this vital financial lifeline available to fine arts students at MSU."