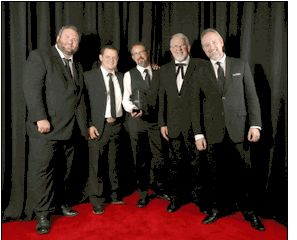 Nashville, TN -- IBMA Entertainer of the Year, Balsam Range, has announced a truly great lineup for its 5th Annual Winter Concert Series. The band and their guests brings five concerts to their Haywood County, NC home each year, all presented at the historic Colonial Theater.
"Our winter concert series is a kind of gift to our community. It's an opportunity to share the talents of some really amazing artists that we admire and don't usually get to perform with," says Balsam Range's Tim Surrett.
Guests for each of the five concerts include fan favorites and award winners. The 2014-15 series will include The Jeff Little Trio with Steve Lewis and Josh Scott; The Molly Tuttle Trio; North Carolina's own, The Harris Brothers; The Snyder Family Band; and The Studio Dream Team, comprised of musicians Jeff Collins, David Johnson and Tony Creasman. Concerts are held at the Colonial Theater in Canton on the first Saturday of each month, December 2014 through April 2015. Balsam Range, winner of the 2014 IBMA Entertainer of the Year, also performs at each show.
Special guest artists are selected by the members of Balsam Range. Tim Surrett, Buddy Melton, Caleb Smith, Darren Nicholson and Marc Pruett often use their many hours on the road to talk about and share with each other the music of artists they admire.
"We love to get our own musical heroes on these shows," says mandolin player extraordinaire, Darren Nicholson. "Musicians are inspired by other artists. It's just as much fun for us to share an evening with these folks as it is for our fans and friends to hear them."
Balsam Range tries also to bring artists to the series who don't regularly play in the area. Past concerts, which have all been sell-outs, have boasted guests from among the top names in the business as well as fast-rising stars of acoustic music. Guests have included Tony Rice, Bobby Hicks, John Wiggins, Carl Jackson, Jerry Salley, Larry Cordle, Jim Hurst, Shawn Camp, The Sweet Lowdown, John Driskell Hopkins of the Zac Brown Band and more.
BALSAM RANGE WINTER CONCERT SERIES 2014-15: