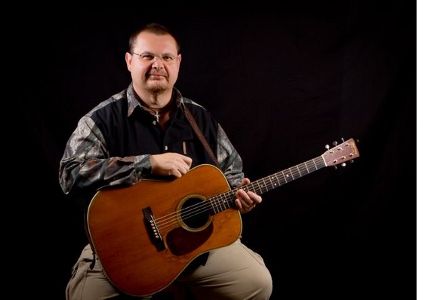 Junior Sisk, who is well-known to his fans as an avid hunter, injured his hand this past Monday (10/27) in a minor hunting accident. Sisk suffered a deep cut to one of his fingers, which required stitches and a course of antibiotics. According to Sisk, the stitches will stay in for the next ten days, but he does have feeling in and can move his finger. He says that it's going to take a little time to heal, but he hopes to be back to playing this Saturday, when Ramblers Choice takes the stage at the Bluegrass, Barbecue, & Brew Festival in Brookneal, Virginia. Sisk would like to thank his friends and fans for their prayers and get-well wishes.
Junior gave thanks on the Junior Sisk & Ramblers Choice FB page [1] saying, "Junior would like to thank all of his friends and fans for their prayers and get-wishes concerning the injury to his hand yesterday. He cut one of his fingers in a minor hunting accident, but after five stitches, a tetanus shot, and antibiotics, is doing well. He hopes to be back playing this Saturday at the Bluegrass, Barbecue, and Brew Festival.
One of today's top voices in bluegrass, Junior Sisk has won the acclaim of fans and critics alike for his hard-driving style and commitment to the traditional sound. His distinctive, lonesome vocals earned him the honor of being named 2013 IBMA Male Vocalist of the Year. Hailing from southwest Virginia, the epicenter of traditional bluegrass music, Sisk and his talented band continue to lead the way in keeping those beloved sounds alive as evidenced by them recently being named SPBGMA's 2014 Best Bluegrass Band Overall.
We all wish him a speedy recovery as the descriptions on the social media sites and the long wait for treatment had many fans concerned for quite a while.