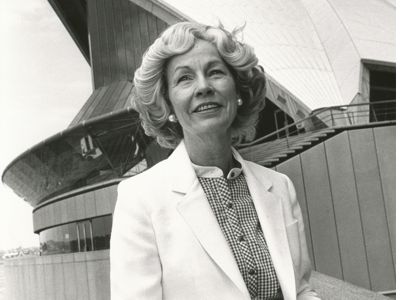 Nashville, TN -- To honor the memory of a Bluegrass Hall of Fame icon, the Country Music Hall of Fame® and Museum will present an interview with longtime CMA Executive Director Jo Walker-Meador in the eighth annual Louise Scruggs Memorial Forum on Wednesday, November 12, 2014, at 6 p.m. in the Ford Theater. A reception will follow the program.
The program is free and open to the public, but reservations are requested. Reservations can be made by emailing rsvp@countrymusichalloffame.org [1] or calling 615-416-2040. Made possible by the Gibson Foundation, the forum was established in 2007 to explore issues related to the business side of the music industry and to recognize annually an individual who represents the legacy of pioneering agent-manager Louise Scruggs, the adoring wife and savvy business partner of Country Music Hall of Fame member Earl Scruggs.
Previous honorees are Denise Stiff, Liz Thiels, Mary Martin, Bonnie Garner, Sarah Trahern, Nancy Shapiro and Kay Clary.
Senior Historian John Rumble will host the forum interview with Walker-Meador. As he tracks the history of her career, Rumble will invite Walker-Meador to share memories of the early days of the Country Music Association, her time at the helm of the organization, establishing the Country Music Hall of Fame and Museum, and changes in the country music industry during her tenure. The interview will be enhanced with video clips and vintage photos from the museum's archives.
Jo Walker-Meador, born Edith Josephine Denning in Orlinda, Tennessee, served as executive director of the Country Music Association from 1962 to 1991. She attended Lambuth College and George Peabody College where she aspired to be a high school basketball coach before changing career paths. Prior to joining the newly formed CMA as office manager in 1958, she was a mortgage broker; served as secretary to the president of Crescent Amusement Company (which owned a network of free-standing theaters); and worked on a public relations campaign for a Tennessee gubernatorial candidate.
In 1962, Walker-Meador became executive director of the CMA and remained in that position until she retired in 1991. During her 30-year tenure the organization grew to have global impact. The number of country radio stations in the United States increased from less than 100 to more than 2,000; the Country Music Hall of Fame® and Museum opened on Music Row in 1967; the CMA Awards show was launched in 1967 and televised the following year; and Fan Fair (renamed CMA Music Festival) was inaugurated in 1972.
Jo Walker-Meador retired in 1991 and was elected to the Country Music Hall of Fame in 1995.
Setting new professional standards in artist management, Louise Certain Scruggs played a key role in bringing the music of Flatt & Scruggs and the Earl Scruggs Revue to audiences well beyond the traditional country norm—a role she relished until her death in 2006.
A doting wife and mother accomplished in the domestic arts, and a culturally literate accountant who was nobody's fool, Scruggs was known for her knowledge of music and music trends, and better known for the formidable business acumen that helped her open or close doors in the best interests of her husband and sons. Protective, stern and confident as a businesswoman, she loved music as a life force central to her being and her humanity. On September 30, 2010, Louise Scruggs was inducted into the International Bluegrass Music Hall of Fame.
"In the eighth Louise Scruggs Memorial Forum, we are proud to recognize Jo Walker-Meador for her outstanding and groundbreaking direction of the CMA for 30 years." said Henry Juszkiewicz, chairman and CEO of Gibson Guitar. "Jo is an important music industry pioneer and a deserving honoree."
Founded in 2002 as the philanthropic division of Gibson Guitar, the Gibson Foundation is committed to making the world a better place for children worldwide through its own initiatives and by its support of other non-profit organizations that advance music and the arts, health and welfare, education, and environmental causes. For more information, please visit www.gibsonfoundation.org [2] or www.gibson.com [3].