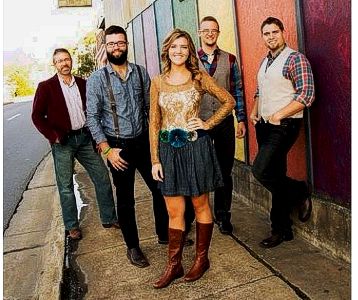 Willis, VA -- Dollywood favorites and North Carolina natives, Mountain Faith, will take their music to a broader audience this weekend when they make an appearance on RFDTV's "Larry's Country Diner." The show has become a favorite for audiences nationwide who are craving comprehensive traditional country and bluegrass programming, offering viewers a wholesome, down-home, nationally-broadcasted variety show known for its spontaneity, impromptu dialogue and live-to-tape performances by the best country music artists of yesterday and today.
Mountain Faith's family friendly picking and singing fits right into this mix. The group dropped their first single from the album, "Feelin' Blue" to radio in late summer.
Singing, playing and performing together for 14 years, the band members include Sam McMahan on bass, Luke Dotson on guitar along with lead and harmony vocals, new member Cory Piatt on mandolin, Summer McMahan on fiddle along with lead and harmony vocals, and Brayden McMahan on banjo and harmony vocals. Bluegrass Today recently ran a brief article on talented young picker Cory Piatt joining the band.
Mountain Faith has a unique style that offers a variety of different genres of music. Audiences applaud their ability to offer numerous styles. Listeners will get a great mix of both traditional and contemporary bluegrass, classic and modern country, folk, acoustic and contemporary gospel and a little rhythm and blues, leaving a fresh, pure and upbeat impression on audiences of all ages.
Frequent performers at world renowned Dollywood, the band has become a crowd favorite over the years. They travel the bluegrass festival circuit, running alongside bluegrass' top bands, all over the United States and Canada. Concert venues include civic centers, auditoriums, arenas, fair grounds, parks, churches and other locations. Recent SPBGMA awards "raised eyebrows" and drew more recognition for the band as they were the only band to have all members, but one, nominated for instrumental awards.
As you get to know the members of Mountain Faith, their humbleness, kindness and love of people will be evident. They leave a lasting impression in both their relationships and music.
For more information on Mountain Faith, visit www.MountainFaithBand.com [1] or www.MountainFever.com [2]
Larry's Country Diner is a unique down-home variety show which integrates entertainment, interviews and music in a weekly format, taped live in front of a studio audience in a country diner setting. The show features regular characters including Black, Keith Bilbrey, Sheriff Jimmy Capps, Waitress Renae and avid church lady, Nadine along with special guest appearances by country music artists of yesterday and today. Since its initial airing on August 3, 2009, Larry's Country Diner has produced over 100 episodes and has become one of the most popular shows on RFD television, garnering 1.4 million viewers monthly.
Larry's Country Diner is a product of Gabriel Communications. Owned and operated by longtime disc jockey Larry Black, Gabriel Communications was created in 1996 and specialized in "Reunion" videos. The success of these videos spurred the creation of more than a dozen more projects featuring hundreds of songs and stories as well as Country's Family Reunion News, a monthly newspaper which highlights the music of yesteryear. For more information on Country's Family Reunion visit www.cfrvideos.com [3]