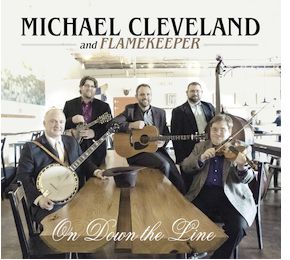 SiriusXM's Bluegrass Junction will air a Track By Track with Michael Cleveland & Flamekeeper this week! Michael and Flamekeeper bandmates Josh Richards and Nathan Livers joined Kyle Cantrell in the studio recently for a feature on their Compass Records CD, On Down the Line. Since the band got together in 2006, Michael Cleveland & Flamekeeper have made their mark in the bluegrass world. Their newest album, On Down the Line, was released last July. Led by nine-time International Bluegrass Music Association's Fiddle Player of the Year, Michael Cleveland, the group's virtuosic style and traditional bluegrass sound has never been better represented.
The album's fourteen tracks showcase Flamekeeper's rich instrumental blend and tight three-part vocal harmonies, with tunes that span from straight-ahead bluegrass ("Fiddlin' Joe," "Orange Blossom Special") to melodic, heart-felt songs such as "Just Call Me Crazy" and the imaginative reworking of the traditional "Jack O'Diamonds" as a solo fiddle tour de force.
There is also a surprise twist with a hard-driving bluegrass take on the Julian Lennon song "Too Late For Goodbyes," which is propelled by instrumental trades between banjo player Glenn Gibson and Cleveland. Grounding the driving forces of Gibson, Cleveland, and Nathan Livers on the mandolin, are bassist Tyler Griffith and guitarist Josh Richards, who contributed several originals to the project, including the neo-grass original, "Johnny Thompson."
Here are the upcoming air-dates and times:
Wednesday, October 15th at 11:00am ET
Thursday, October 16th at 9:00pm ET
Saturday, October 18th at 8:00am ET
Sunday, October 19th at 11:00am ET
For more on SiriusXM's Bluegrass Junction, please visit www.SiriusXM.com/BluegrassJunction [1]. For more information on Michael Cleveland & Flamekeeper, visit www.FlamekeeperBand.com [2].