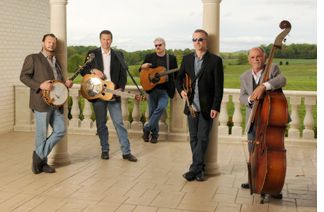 The Foundation for Bluegrass Music is proud to announce, for the first time ever, the online sale of tickets to the Foundations Annual Fundraising Event featuring Blue Highway and a bluegrass karaoke extravaganza! This year the Foundation partnered with the IBMA Youth Council to promote the upcoming event. Tickets ($10 each) can be purchased in the exhibitor hall from the Foundation booth, at the Youth Councils Kick Off Party on Wednesday at 5 PM in Raleigh Convention Center room 203, at the door the night of the show at Tir Na Nog, or right here online [1]. Blue Highway will be performing at both Wide Open Bluegrass as well as the Foundations Event.
The Foundation for Bluegrass Music, Blue Highway, and YOU! takes place Thursday, October 2nd, 2014 at 11:00 p.m. after the 25th annual IBMA Awards Show at Tir Na Nog Irish Pub in Raleigh, North Carolina, during the International Bluegrass Music Association's World of Bluegrass.
Funds go to help the Foundation with it's work to heighten awareness and appreciation of Bluegrass music. Buy your ticket by clicking here and put your name on the guest list.
It's important to you to give back to the music and share the values and authentic qualities that are such an important part of your life. Whether you're passing it along to a new generation or supporting the music's public performance or academic study, the Foundation can provide an appropriate structure to allow you to do just that.
Created in 2007, the Foundation for Bluegrass Music [2] is a non-profit charitable organization (501c3) created to serve as an "umbrella" under which funds can be placed and disbursed to support educational, literary, artistic and historic preservation activities of public benefit.
Donations may be designated to create or sustain a particular program or may be unrestricted. And by combining it with the gifts of others, the legacy of the music and your contribution grows and takes on even greater importance. For example, thanks to one recent leadership gift, important programs to expose young people around the world to the music are benefitting and have a more sustainable future while providing important tax advantages to donors.
At the 20-year mark, Blue Highway is indisputably one of the most esteemed and influential groups in contemporary bluegrass. The band's nine exceptional albums and compelling live performances give proof to the stellar reviews, Grammy nominations, and numerous awards earned by the band since it first took the stage on December 31, 1994, with the same musicians that comprise Blue Highway today.
With a deep bench of virtuosic songwriters, vocalists and instrumentalists, Blue Highway's hallmark is an unwavering commitment to the ensemble, the "democracy of the band" that makes Blue Highway a powerhouse.