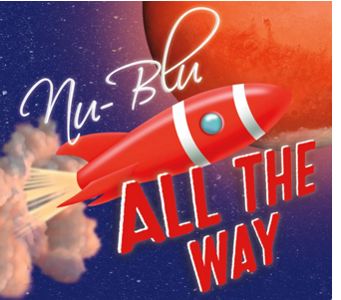 All The Way, the latest release by bluegrass artists, Nu-Blu, once again delivers. This album makes the bluegrass blue from start to finish. The tight artistry is a trademark of this outstanding band and this album is even tighter. Carolyn Routh's vocals on the tracks is soulful and emotional.
The band's rendition of Anne Murray's "A Little Good News" fits today's world news. It is a timely and a fitting today as it was 31 years ago when first released. Things really pick up with the instrumental "Black Jack" made popular by J.D. Crowe and the New South. They do this track justice with some outstanding picking that is full of drive and powerful. Turn up the volume on this one!
Of course, the highlight of this project is "Jesus And Jones" featuring Sam Moore. We certainly need more of this kind of depth in bluegrass. American Southern soul and R&B artist Sam Moore's contribution to this track adds an entire new dimension to what bluegrass music can be. I hope that more artists find a way to put the blues into bluegrass. After all, that's where it all started with Bill Monroe.
The overall tempo of the album is mild. "Black Jack" is the peak of the pickin' however, don't let that hold you back. This album covers stories and life as bluegrass music is known for. The album touches various ups and downs throughout the ten tracks. Nu-Blu put a lot of their own soul into this release. This is Nu-Blu listening material that will be as good years from now as it is today. That staying power is why this band is at the top of todays contemporary bluegrass.