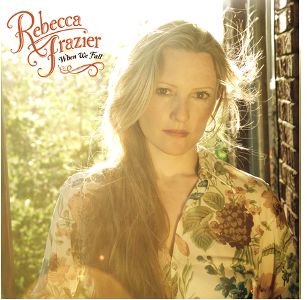 Over the past decade, Rebecca Frazier has led one of today's hottest bluegrass ensembles, Hit & Run Bluegrass. They've become known as one of the tightest groups performing, taking them all the way to the coveted winner's circle. Hit & Run is the only band to take first place at Telluride, Rockygrass, and SPBGMA Festival Band Championships.
Rebecca and company are honored to be a part of two of the largest conferences for Americana and Bluegrass music. Catch her at the Americana Music Association Conference and the International Bluegrass Music Association's World of Bluegrass where she is an official showcase artist at both!
Rebecca Frazier achieved notoriety in the bluegrass world as the first female musician ever to appear on the cover of Flatpicking Guitar Magazine, but it is her vocal prowess and songwriting chops that make her one of the most exciting new artists to emerge on the national bluegrass stage. When We Fall is her long awaited solo debut and it is already garnering praise from bluegrass fans and critics in the know. Accompanying Frazier on the album of original songs and tunes are some of the finest players in bluegrass including Barry Bales (bass), Scott Vestal (banjo), Ron Block (banjo), John Frazier (mandolin) and more.
Vocally the album places Frazier solidly in the tradition created by Alison Krauss, Rhonda Vincent, Claire Lynch and others with driving tracks like "Ain't Gonna Work Tomorrow" which are reminiscent of the early recordings of Alison Krauss while instrumentals such as "Virginia Coastline" and "Clifftop" give a tip of the hat to guitar legends Tony Rice and the late jazz guitarist Emily Remler, about whom Frazier wrote her Honors Senior Thesis at the University of Michigan. Taken as a whole, Frazier is a triple threat and her multi-faceted musicianship is sure to place her at the top of the crop of up and coming leading ladies in bluegrass.