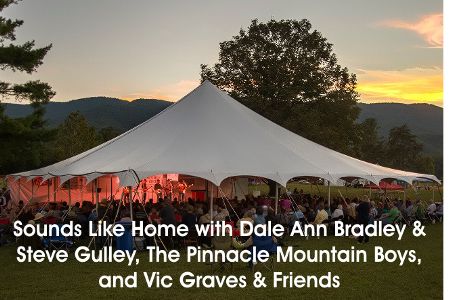 Sounds Like Home: A Night of Music from the Cumberlands is a community homecoming for bluegrass legends Dale Ann Bradley and Steve Gulley, who have grown up, performed and made countless friends and fans in the Cumberland Mountains of East Tennessee and Kentucky. This special event takes place September 26th at 6 PM at Cove Lake State Park in Caryville, Tennessee.
These amazing bluegrass artists return to help kick off a great weekend celebration, along with the Pinnacle Mountain Boys (featuring Don Gulley) and Vic Graves & Friends. This remarkable night of lightning-fast picking and sweet, soulful harmonies will remind you how special our community is.
Steve has just put together the next chapter in his legendary bluegrass career with his new band, Steve Gulley & New Pinnacle. Joined with Bryan Turner on Bass, Gary Robinson on Mandolin and Matthew Cruby on Banjo, this group has healthy and deep bluegrass roots. They also have the experience to greak out with some hot music as well.
The Gulley family name enjoys a rich musical heritage that reaches across generations with strong roots in Bluegrass and Mountain Gospel music. It starts with long time radio personality Don Gulley who was a founding member of the Bluegrass group the Pinnacle Mountain Boys. Don's son, Steve Gulley, has carried on the family tradition performing for many years with Doyle Lawson & Quicksilver, as a founding member of Bluegrass super groups Mountain Heart and Grasstowne, as a regular featured performer at Renfro Valley and with Steve's longtime friend and colleague Dale Ann Bradley.
Gates open at 5:30 p.m. and RICKARD RIDGE BBQ will be selling food and beverages on site.
The concert raises funds for the non-profit, all-volunteer Campbell Culture Coalition, the organization that runs Louie Bluie and many other arts and culture events in Campbell County. Tickets are on sale now! Get them online by clicking the link below or find them at one of the ticket outlets listed below. Advance tickets are $12.50 and tickets at the gate are $15.