Charlottesville, VA -- Rebel Records is pleased to present the new single "Surrounded" by Jimmy Gaudreau & Moondi Klein from their upcoming album If I Had A Boat (REB-1853), set for release on September 30. The song comes from the pen of noted singer-songwriter and producer Jonathan Edwards, a long-time friend of the duo since their days crossing paths on the Washington DC-area folk scene. It features Moondi on lead vocals and guitar with Jimmy playing mandola and singing harmony. They are joined by Moondi's daughter, Lauren, who supplies lovely high harmonies.
Jimmy Gaudreau and Moondi Klein have nearly a century of professional muscianship between them. As a duo, they call on their considerable experience that includes extensive earlier work with such powerhouse bands as the Country Gentlemen, Seldom Scene, and The Tony Rice Unit to create a distinctive blend that takes full advantage of Moondi's wonderful singing and Jimmy's skills on several stringed instruments: mandolin, mandola, octave mandolin and guitar. They joined forces in the early 90s to form the progressive group Chesapeake. After that band dissolved, they kept in touch and once again began to play together as a duo, releasing their superb debut Rebel release, 2:10 Train in 2008. A critically acclaimed follow-up album Home From The Mills came out in 2012.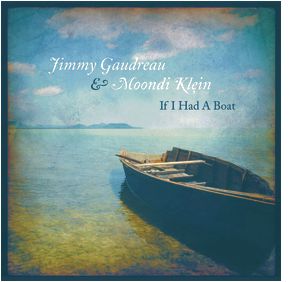 This latest release, If I Had A Boat, may be Jimmy and Moondi's strongest album to date. Once again, they impress with their ability to bring together a wide variety of songs into one cohesive project. Starting with opening number "I'm Always on Mountain When I Fall" (a hit for Merle Haggard in the late 70s), it includes lovely versions of the traditional "Bury Me Beneath the Willow" and "Where The Soul of Man Never Dies," as well as songs from writers like Bob Dylan, Gordon Lightfoot, James Taylor and Lyle Lovett, who penned the title track. In addition, Jimmy contributes two dazzling original instrumental pieces to the project: "Waltz for Anais," written in honor of his first grandchild, as well as the stunning "Grassnost" featuring Moondi on piano and Jens Kruger on banjo. With their distinctive sound and innovative approach to performing previously recorded songs, listeners are in for a treat.