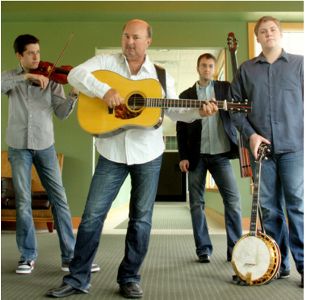 Scottsdale, AZ -- Award-winning vocalist/guitarist and Grammy Award nominee, Audie Blaylock is certainly one of the hottest Bluegrass artists today. Along with his band, Redline, they are celebrating a boat load of #1 singles from numerous albums and thrilling audiences with their incredible musicianship, impeccable harmony and highly entertaining stage shows. R&R Productions along with the Arizona Bluegrass Association are proud to present this special One Night Only live performance at the Cattle Track Arts Compound Theatre in Scottsdale on Thursday, October 16th at 7 PM.
Discounted advance tickets can be purchased online through Brown Paper Tickets. Limited reserved Gold Circle seating is available. Purchase NOW for the advance price of $20 for Gold Circle seating and $15 for General seating. Ticket prices at the door are $25 for Gold Circle and $20 for General. Doors open at 6:30 PM. More information about this event is provided through Brown Paper Tickets or call 718-374-1086.
The Cattle Track Arts Compound is a one-of-a-kind artist colony located on the historic Cattle Track property located in north Scottsdale. The colony offers art exhibitions, artists' studios and work spaces, a colonial antique gallery, Theater performances, as well as limited-edition fine art books beautifully crafted on an old-fashioned letter press. Come out and spend the day browsing and stay for this exciting evening concert.
Audie Blaylock and Redline's latest release, "Hard Country" includes the single, "A Natural Thing" and has appeared on charts including the Bluegrass Music Profiles Magazine Top 30 Hot Singles Chart, Bluegrass Today and Top Pick of the Month on the Bluegrass Radio Network. The band continues to celebrate their album, "I'm Going Back to Old Kentucky (A Bill Monroe Celebration)" that previously made its debut at #1 on the Bluegrass Music Profiles Top 10 Albums in July 2011, and hit #1 on the Bluegrass Today's Weekly Song Chart. The album remains a sure fire hit on the radio with five songs (Cry Cry Darlin', I'm Going Back to Old Kentucky, In Despair, Mighty Dark to Travel, and Out in the Cold) that topped the charts.
For further information about Audie Blaylock and Redline visit their website at http://www.audieblaylock.com [1]. Music videos are available on their website as well.
The Arizona Bluegrass Association (ABA) is dedicated to creating an awareness of and encouraging participation in the uniquely American musical forms of bluegrass, old-time music, gospel, and traditional instrumental and vocal music. The ABA provides jamming sessions, workshops and other educational opportunities for "pickers" of all skill levels. R&R Productions is promotion agency for bluegrass music events in Arizona and particularly in the Phoenix metro-area.