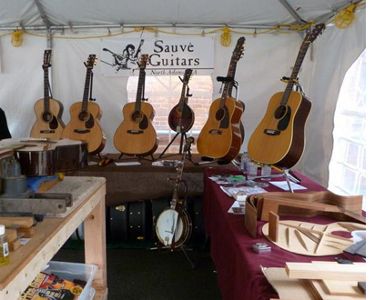 The Fretboard Journal – the boutique magazine for guitar, mandolin, and stringed instrument players – joins Suavé Guitars founder Steve Suavé and a stellar group of artisans for demonstrations and discussions of fiddle, mandolin, banjo, open-back banjo, and guitar.
FreshGrass, Massachusetts Museum of Contemporary Art's (MASS MoCA) three-day festival of bluegrass and roots music, offers a comprehensive series of workshops by performers, educators, and industry-insiders. The festival offers a multitude of opportunities to learn the tricks of the picking trade from the best in bluegrass music. FreshGrass takes place September 19-21, 2014, on MASS MoCA's campus.
You'll meet Nick Lenski of Brier Road Guitars, Adam Buchwald of Circle Strings, Joel Eckhaus and Matt Arcara of Earnest Instruments (and yes, that is Matt from Joy Kills Sorrow), Steve Kovacik of Kovacik Guitars, Frank Marachitto of A Violin Shop, Jason Verlinde of Fretboard, and a few other special guests, including our friends from Deering Banjos and Banjo Studio who will be on hand all weekend long. These activities will be spontaneous, so sign-up is not required.
FreshGrass also has a multitude of other fine workshops scheduled for this year's big event. One of the more popular will be the Banjo Mega Jam. Grammy Award-winning banjo virtuoso (and four-time FreshGrass featured artist) Alison Brown leads this year's workshop. With a deep lineup of FreshGrass artists on campus, you never know who will show up to share secrets of bluegrass' most storied instrument. Last year's event was an epic collaboration of festival favorites such as Chris Pandolfi of The Infamous Stringdusters and Nick Hornbuckle of The Jaybirds.
Workshops cover a variety of topics from bluegrass improvisation, roots music listening, the Berklee mandolin workshop, No Depression site information and fingerpicking. There are others too so you will want to check out the 2014 session lineup [1].