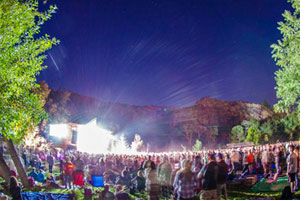 Lyons, CO -- With the rebirth of the 42nd RockyGrass and the healing songs & stories of the 24th Rocky Mtn Folks Festival now just glowing memories, Planet Bluegrass is looking forward to one final weekend -- Yonder Mountain String Band's 2014 Kinfolk Celebration in Lyons, Colorado this September 19-20. Held on the final weekend of summer, just a few days after the anniversary of their historic flood, this is their last chance to dance and sing together under the sandstone cliffs of the St. Vrain in 2014.
ire up this video of Yonder Mountain performing a few weeks ago along the St. Vrain and make your plans now to join us for the 2014 Kinfolk Celebration at shop.bluegrass.com [1]

Twelve years after the inaugural Kinfolk Celebration (also held on Planet Bluegrass), Colorado's own Yonder Mountain String Band returns to Lyons to celebrate a new era with many of their closest musical kin.
On Friday night, John Bell of Widespread Panic performs a very special solo acoustic solo set (!!), then returns to the stage as a special guest with Yonder Mountain. On Saturday night, Drew Emmitt & Vince Herman of Leftover Salmon present a special acoustic set, followed by Yonder Mountain with special guests Ronnie McCoury and Jason Carter of the Travelin' McCourys.
For 2 epic sets each night, Yonder Mountain's Adam, Ben and Dave will be joined by mandolinist Jake Jolliff (a veteran of all 3 Planet Bluegrass festivals as a member of Joy Kills Sorrow) and fiddler Allie Kral (who thrilled Telluride Bluegrass Festivarians as a member of Cornmeal). The Planet Bluegrass Ranch opens early each afternoon for full sets from the Travelin' McCourys, Head for the Hills, The Haunted Windchimes, and Gipsy Moon.
We couldn't celebrate the end of summer (and the Autumnal Equinox) without a Mabon Concert. So Ben Kaufmann & Adam Aijala of Yonder Mountain will kick-off the festivities on Thursday evening (Sept. 18) with their 7th Annual Mabon Concert in the Wildflower Pavilion. Due to the intimate size of the Wildflower, this special Thursday night show will be held specially for kinfolk in the on-site campground. Your on-site camping pass gets you into the show; no additional Mabon tickets will be sold to the general public.
Tickets and camping are available now at shop.bluegrass.com or 800-624-2422. Or purchase your tickets in-person at the Mountain Sun Pub & Brewery (and Under the Sun) in Boulder and receive a free pint of Mountain Sun beer!