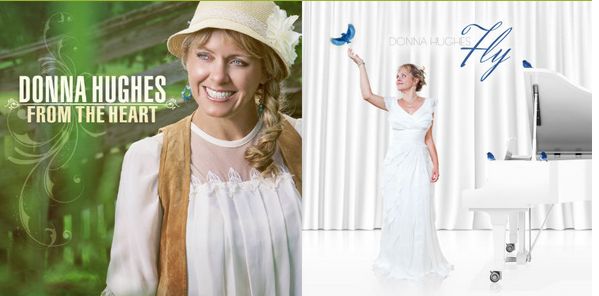 Trinity, NC -- Singer-Songwriter Donna Hughes is proud to announce today's two new album releases,
From the Heart
and
Fly
, plus the music video for her song "Red Oak Tree." During last Saturday's red carpet release event, Mayor Protem Jessie Hill of Trinity, NC (Donna's hometown) presented her with the Key to the City and proclaimed August 23rd as Donna Hughes Day.
Both albums are available in physical format at CD Baby [1], DonnaHughes.com [2] and for digital purchase on iTunes, Amazon, and many more online outlets.
Radio has certainly supported these long awaited new albums as Donna is #1 this month on AirPlayDirect's Global Indicator Top 50 Albums Chart that covers all genres of music.
Her first single release, 'The Way I Am," made its debut on Bluegrass Unlimited Magazine's Top 30 song chart for September 2014.
The new music video for her original song "Red Oak Tree" premiered during the release party held at the Sunset Theatre in Asheboro, NC last Saturday. The video can be viewed on YouTube, and other online outlets. "Red Oak Tree" appears on both albums providing her fans with both an acoustic and piano version of this haunting tune.
"Red Oak Tree" was filmed and directed by Anthony Ladd, Kneelindesign of Pikeville, TN. Donna Hughes coordinated costumes and production schedules which was a huge task. The video begins in modern day times and spans several hundred years and included over 100 of her friends and family that participated during the 3-day video shoot. It was filmed exclusively in North Carolina. Locations include: Asheboro City Cemetery (Asheboro), the home of Chad & Barbara Hall (otherwise known as the "John Hughes" home); Loraye Hughes' home (Donna's mother), and the Denton Farm Park. Donna has set up a special page on her website thanking everyone involved for their participation especially to video financier, Charles Finch, the Heritage Carriage Company, Denton Farm Park, and the High Point Theatre Company who provided additional props.
Check out the Red Oak Tree Facebook page [3] to see numerous behind the scenes photos from the video shoot. For lyrics and more information on Donna Hughes, please visit DonnaHughes.com and join her on Facebook, Twitter, Instagram, Pinterest, Pandora, Spotify, and many more sites. border-9 height=150 width=300 /