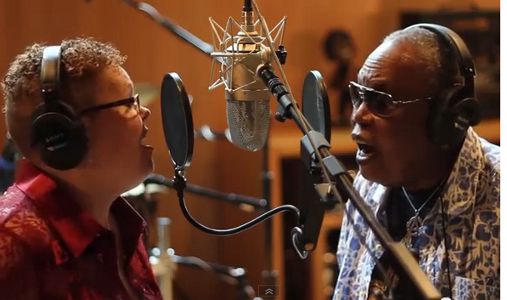 This is the official video for Nu-Blu and Sam Moore's George Jones inspired single, "Jesus and Jones." The song serves as the first single from Nu-Blu's upcoming album
All The Way
, which is set for release on September 16. The official video premiered last Friday on The Boot, after CBS Sunday Morning gave viewers a sneak peek at the first cut of the video. The video was even shared by George Jones' official facebook page to nearly 1.4 million fans. You can purchase "Jesus and Jones" on
iTunes Right Now
! To pre-order the album,
click here
.
Not since George Jones and B.B. King performed "Patches" on Rhythm, Country and Blues has this form of blending come through so sincerely. George Jones had done collaborations with soul and blues artists in the past. It is refreshing to see Nu-Blu carry on that tradition with a song related to The Possum. With "Jesus and Jones", Sam Moore and Nu-Blu prove that a good idea just gets better with time.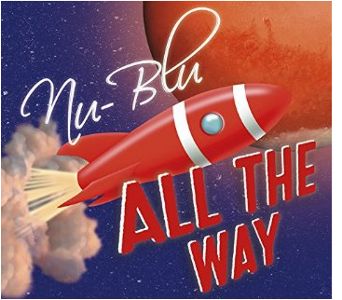 In the video, Nu-Blu and Sam Moore are in-studio honoring George Jones, a man who impacted the lives of fans worldwide! Powerful notes are exchanged by both Nu-Blu and Sam Moore. Produced by Sammy Passamano, the heartfelt video shows the genre-crossing pair laughing, and having a fun-filled time while honoring The Possum.
Moore, who had been invited personally by George before he passed away, performed at what became Jones' tribute show "Playin' Possum: The Final No Show" in November of 2013. Sam took no time to agree to participate in recording this song. "I've been a fan of George's music for a long long time and was fortunate enough that we called each other friends," says Moore. "This song honors him and says what we all have felt about him."
"We absolutely love this song and its message," says Nu-Blu's Carolyn Routh. "We played the demo for George's widow Nancy Jones and she loved it. With her encouragement we recorded it and just knew we wanted to add a guest vocalist to the recording."
There is more to come regarding Nu-Blu's latest project. Stay tuned as we bring it to you on Cybergrass.