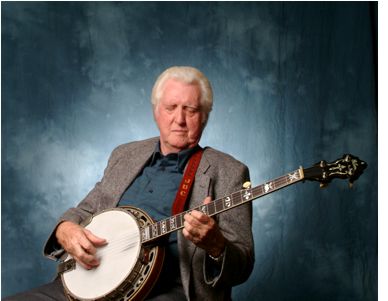 Marion, VA- J.D. Crowe will headline the September 6th concert taping of Song of the Mountains at the Lincoln Theatre in Marion, Virginia. This concert will be taped for national broadcast across America for public television.
Crowe began playing the banjo early on and was offered a job with Jimmy Martin's Sunny Mountain Boys in mid-1950s. He cut his first recordings with Jimmy Martin on December 1, 1956, and his last on August 17, 1960, recording a total of 33 songs on Decca Records. In the late 1960s, Crowe formed the Kentucky Mountain Boys, principally performing in the Lexington, Kentucky region. By the early 1970s, Crowe changed the band's name to The New South and included material from rock and country music sources. Crowe's New South band is widely considered one of the most influential bluegrass groups since the 1970s. Many influential musicians have been a part of the band over the years, including Keith Whitley, Ricky Skaggs, Tony Rice, Jerry Douglas, Doyle Lawson, and Bobby Slone.
J.D. Crowe will perform with the band Wildfire on the September 6th concert.
Wildfire was formed in 2000 and quickly became one of the most talked about groups in the bluegrass music industry. The band has many years of musical and performance experience, with Robert Hale on lead vocals and guitar, Curt Chapman on bass and Johnny Lewis on banjo. Most recently to join the band, accomplished mandolin player and vocalist, Chris Davis and well known musician,
Greg Luck, accomplished fiddle player, song writer and vocalist.
The band definitely doesn't hold back when it comes to pouring their heart and soul into their music. By mixing their original songs and telling ballads, their complete dedication and love for their music, and their artistic spontaneity, Wildfire takes listeners on a journey that will spur emotion and excitement.
Wayne Henderson and Jeff Little will also perform on the concert taping. Wayne Henderson is the Appalachian guitarist the Nashville pickers all talk about, the one who lives in a very remote area of the Blue Ridge and makes those acoustic guitars with the amazing tone, the ones that are so hard to get. Sometimes Wayne's playing is mistaken for flatpicking but actually he uses a thumbpick and fingerpicks to achieve amazing speed and fluidity, transforming fiddle and banjo pieces and even the occasional jazz standard into stunning guitar solos. Wayne was awarded the country's highest honor for a traditional artist, the National Heritage Fellowship in 1995 in honor of both his fine playing and his exquisitely fashioned steel-string guitars. Henderson was born, raised and still lives in tiny Rugby, Virginia, in the White Top Mountain area of Grayson County near the North Carolina border. An accomplished guitarist, Wayne has won over 300 ribbons at various fiddlers' conventions including first place at the venerable Galax (VA) event 12 times. He has toured internationally with the United States Information Agency and performed at Carnegie Hall
With few exceptions, the piano does not play a prominent part in Appalachian or Americana music, and is rarely the lead instrument. But Jeff Little is an exception – and a remarkable one. His distinctive two-handed style, much influenced by the mountain flat-picked guitar tradition, is breathtaking in its speed, precision and clarity.
Little's involvement with fiddle tunes, old time country, and traditional blues dates to his growing up in Boone, North Carolina, where his family, owned a music shop. The shop was a regular gathering place for musicians who would just stop by to pick a few tunes.
Appalachian-Celtic Music will be featured on the concert by Fire in the Kitchen. Performing together since 2002. The trio of Fire in the Kitchen is an outstanding acoustic group that plays Appalachian/Old-time and Celtic music. Based in Washington County, VA, Fire in the Kitchen's unique sound is created by skillful bass, guitar and banjo playing of Teddy Helton, the hauntingly beautiful sounds of the penny & low whistle playing of Debbie Shrewsbury and the beautiful hammered dulcimer playing of Tammy Martin.
Fire in The Kitchen has played at a variety of venues locally and regionally including 30 performances at Dollywood's Festival of Nations, The Carter Family Fold, Bristol Rhythm 'N Roots, The Floyd Country Store, The Virginia Highlands' Festival, Winston-Salem Celtic Festival and many, many more. They have been honored to play for such greats as Doc Watson and Tom T. Hall and have been featured on Public radio programming.
Jerry Butler and the BluJs will also be on Song of the Mountains September 6th. Veteran bluegrass singer/guitarist Jerry Butler has brought his skills to a number of high profile bands during his career. Jerry Butler & the Blu-J's, now in their fifth year, are maturing into an entertaining and skillful group. This current configuration with Jerry, Derek Vaden, Lee Chapman and Barron Rogers, unchanged for two years now, work well together, offer an entertaining show, with four musicians who each add distinctive and quality work. The Blu-Js, whose music has been described as energetic, fresh and smooth, play a repertoire consisting of original and traditional bluegrass songs, familiar classic country songs and heartfelt gospel. Based in Knoxville, TN, The Blu-Js have taken their music throughout the United States, Canada and the finest and largest cruise ships in the world.
Jackson Dale will also perform on the show. Jackson Dale is a native of Russell County in Southwest Virginia. His musical journey began at age 5. By age 10 Jackson was taking piano lessons and playing in church. Recognizing potential talent, 4-H leaders entered him in a youth talent contest in which Jackson won county and region, thus competing at the state level at VPI in Blacksburg. There he was awarded 2nd place in piano for the entire State of Virginia.
The Song of the Mountains concert and taping on September 6th will begin at 7:00 pm at the Lincoln Theatre in Marion, VA. Tickets and information is available at www.songofthemountains.org [1] or by calling 276-783-6093. Tickets are $ 25 reserved seating.
The concert series is underwritten by the Town of Marion, VA, the Ellis Family Foundation including the General Francis Marion Hotel, Bank of Marion, Morehead State University, Emory and Henry College and Blue Ridge Country 98.1 WBRF Radio.
Song of the Mountain/Lincoln Theatre is a non-profit organization.