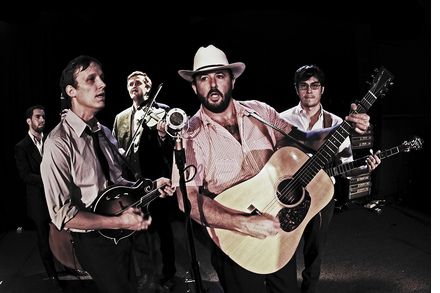 Ashville, NC -- IBMA Emerging Artist Nominee, Town Mountain, set to release their first official live album, Town Mountain: Live At The Isis, on Tuesday, August 19th. The concert was recorded in their hometown of Asheville, NC at Isis Music Hall. The album features live versions of previously released studio material including crowd favorites "Lawdog," "Tarheel Boys" and the fiddle tune "Four Miles." Amidst the original songs are a couple of lively Town Mountain-tweaked covers such as "The Race Is On" and "Orange Blossom Special." The audio was mixed by Scott Vestal, acclaimed banjoist with the Sam Bush Band, who also mixed their fourth studio album Leave The Bottle [Pinecastle Records 2012].
Leave the Bottle, which was produced by Mike Bub, garnered the band much positive praise. Bluegrass Today's David Morris says, "I'm not sure what the definition of bluegrass would be in words alone, but if that definition was set to music, it would probably sound something like Town Mountain's Leave the Bottle... I could go on… There are no duds, and no filler songs on this project. But you get the point. This, my friends, is how bluegrass is supposed to sound." The Bluegrass Situation's Devon Leger repeats this reflection saying, "They play bluegrass. Period. They play it hard, they play it fast, and they play it like their fingers are bleeding and their picks are breaking."
Town Mountain's hard drivin' bluegrass sound, tight harmonies, and stellar in-house songwriting have become the band's trademark. They light up the stage with their honky tonk edge and barroom swagger, featuring a Jimmy Martin-style bounce and confidence that is countered at times by a laid-back John Hartford-esque groove. Town Mountain includes Robert Greer on vocals and guitar, Jesse Langlais on banjo and vocals, Bobby Britt on fiddle, Phil Barker on mandolin and vocals, and Nick DiSebastian on bass.
This nomination follows last year's honor of receiving IBMA Momentum Awards for "Band of the Year" and lead singer Robert Greer for "Vocalist of the Year." The members of Town Mountain have thought long and hard about their cultivated roots music groove with strong focus on crafting original material. "Without doubt, this band has fine writing chops," writes Donald Teplyske in the Lonesome Road Review.
The past two years have pushed Town Mountain into the upper tier of acoustic bands and they have found themselves along the side of some of the best artists today at some of the most prestigious festivals in the country such as MerleFest, Grey Fox, Rockygrass, Suwannee Springfest and the Targhee Bluegrass Festival just to mention a few.
"It's a proud moment in Town Mountain's history, for sure," said banjoist Jesse Langlais to acclaimed journalist Derek Halsey after last years awards show. "We're out there doing what we do because we love to play the music… it is really nice to be recognized by the IBMA and we have experienced some good things to come from it already. When you look at it as this big wheel that is spinning, the music industry wheel, it's great and hopefully we can live up to those momentous expectations and I think we will. We will do what we can to help to carry the legacy of the music on and make the IBMA and all who believe in Town Mountain proud of what we do."
The group has focused on the goal of creating a unique sound and brand while still giving a nod and a wink to the traditional side of the bluegrass genre. Juli Thanki of Engine 145 says, "Phil Barker's 'Lawdog' sounds like an unearthed classic, and the group's tight harmonies alone make this record [Leave the Bottle] a treat for any bluegrass fan."
Town Mountain has been busy writing new songs for their next studio effort which will be out in early 2015. For a sneak peak at what to expect for their future recording, watch the band perform some of their new original songs in this wonderful session filmed by Boulder's Second Story Garage while the were in the area to perform at this year's Rockygrass: