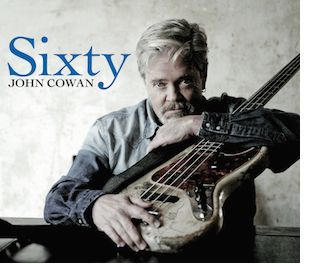 John Cowan, alsoknown as the "Voice of Newgrass, has been singing his hesart out for thirty-five years and his soaring vocals have only improved with time. Sixty, John's new album and most musically ambitious project to date, is a stylistic journey through a 30+ year career. Cowan, one of the most legendary voices in roots music, signed a license deal Compass Records to release his new album entitled "Sixty", due out on August 26.
Sixty features a host of guest artists including Ray Benson, Bonnie Bramlett, Alison Brown, Sam Bush, Rodney Crowell, Chris Hillman, John Jorgenson, Alison Krauss, Bernie Leadon, Huey Lewis, John McFee, Jim Messina, Leon Russell and even more! John McFee produced this latest project for Cowan.
Tracks range from the Dixieland-influenced, heartfelt song "Miss the Mississippi," to "Why Are You Crying," a banjo-pickin' foot stomper, to the rocking "Run For Your Life," which could easily become a blues rock classic. The album's opener "Things I Haven't Done" allude to Cowan's newgrass roots while the standout piano/vocal duet with the legendary Leon Russell, recorded live in one take, is an absolute stunner. Taken as a whole, the album illustrates the breadth of Cowan's vocal talents while showcasing his remarkable vocal dexterity across a variety of genres, proving that 45 years into his career, John is still one of the most iconic singers in roots music.
Working with Doobie Brothers band mate John McFee, who expertly helms the producer's chair, Cowan has assembled an impressive list of guest artists (friends), including Leon Russell, Alison Krauss, Rodney Crowell, Bonnie Bramlett, Jim Messina, Huey Lewis, Ray Benson, John Jorgenson, Chris Hillman, Andrea Zonn, Sam Bush and others on the way to creating what is shaping up to be a cross-genre musical celebration of his 35+ year career.
John Cowan, universally known as "The Voice of Newgrass," has been singing his heart out for the past 35+ years. As a member of New Grass Revival, he helped create a sound which brought a new audience to the bluegrass music and was arguably as important in shaping the direction of modern bluegrass as Flatt and Scruggs was to the genre in the 1960s. After New Grass Revival disbanded in 1990, Cowan went on to record a series of critically acclaimed solo albums and to lend his unique vocals as a session musician to a lengthy discography including albums by Garth Brooks, Glen Campbell, Steve Earle, Rodney Crowell, Janis Ian, Delbert McClinton, Darius Rucker, Kenny Rogers and Poco.
Currently, Cowan divides his time on the road between solo tours with the John Cowan Band and as a touring member of the Doobie Brothers, with whom he has been performing regularly since 2010.
John and producer/fellow Doobie John McFee will support this release with a limited number of live dates, starting with the album release event at the acclaimed Franklin Theatre in Franklin, TN on Friday night, September 12th. Visit the http://johncowan.com/tour [1] link for all show information and to secure tickets.