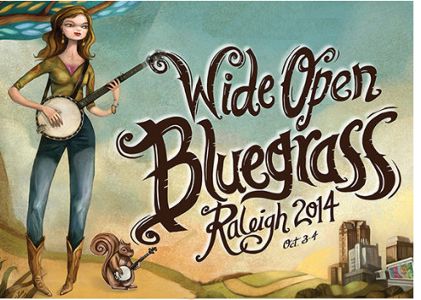 Nashville, TN -- To celebrate the 75th birthday of one of the most respected artists in contemporary bluegrass, a special 90-minute set, "Del McCoury Band with special guests Lee Ann Womack and Keller Williams", will take place on Saturday, October 4 during the Wide Open Bluegrass festival. Wide Open Bluegrass is part of the International Bluegrass Music Association's World of Bluegrass event, which takes place September 30 – October 4 in Raleigh, North Carolina.
"Since Del McCoury turned 75 this year, it is the perfect time for Wide Open Bluegrass to celebrate one of our most beloved performers," said William Lewis, Executive Director of PineCone (the Piedmont Council of Traditional Music) and Wide Open Bluegrass producer. "Del and the Del McCoury Band have a unique ability to appeal to music lovers of all stripes, including fans of traditional bluegrass, jamgrass and country. Whether playing before a diverse crowd at Bonnaroo or at his own DelFest, Del McCoury remains one of the best global ambassadors we have for bluegrass music."
Artists that have been previously announced for Wide Open Bluegrass, which takes place October 3-4, include Ricky Skaggs & Bruce Hornsby with Kentucky Thunder, Hot Rize (with Red Knuckles & the Trailblazers), Yonder Mountain String Band, Gibson Brothers, Steep Canyon Rangers, Jerry Douglas presents The Earls of Leicester, Bela Fleck & Abigail Washburn, Balsam Range, Lonesome River Band, Chatham County Line, Noam Pikelny & Stuart Duncan, Della Mae, Russell Moore & IIIrd Tyme Out, The Grascals, Junior Sisk & Ramblers Choice, Special Consensus, Town Mountain, The Deadly Gentlemen, James King Band, Larry Stephenson Band, Mustered Courage, The Roys, The Davidson Brothers, Jesse McReynolds, Bobby Hicks, Sierra Hull, The Kruger Brothers with Kontras Quartet's world premiere of new concerto "Lucid Dreamer" and the Wide Open Jam, featuring the superstar lineup of Sam Bush, Bela Fleck, Jerry Douglas, Edgar Meyer, Bryan Sutton and Stuart Duncan.
The set, scheduled to take place at Raleigh's Red Hat Amphitheater, will be presented in three segments:
7:00-7:30pm - Travelin' McCourys with Keller Williams
7:30-8:00pm - Del McCoury Band
8:00-8:30pm - Del McCoury Band with Lee Ann Womack
Womack's performance with Del McCoury will come at the end of a busy week for the Grammy winner at World of Bluegrass 2014. The country vocalist will join fellow Grammy recipient, musician Jerry Douglas, to host IBMA's 25th annual International Bluegrass Music Awards, scheduled for October 2 at Raleigh's Duke Energy Center for the Performing Arts. The Way I'm Livin', her much anticipated roots music project on the Sugar Hill label, continues to receive positive notice from esteemed media outlets like The Wall Street Journal, RollingStone.com and USA Today.
Artist Keller Williams recorded his 18th album, Pick, with the Travelin' McCourys. "Playing with Keller is like being in a 2-car chase on a mountain road: you're trying to catch him, only to find, as you round the corner…he's already gone!" Ronnie McCoury has said about the experience. "He's an inspirational musician and songwriter. It's so satisfying to try to keep up with him – and you can't stop smiling along the way!
IBMA's World of Bluegrass event, an annual bluegrass music homecoming, consists of four parts: the IBMA Business Conference, September 30 – October 2; the 25th Annual International Bluegrass Music Awards, scheduled for Thursday evening, October 2; Wide Open Bluegrass, October 3-4 (which includes both free stages and ticketed festival performances) and the Bluegrass Ramble, an innovative series of showcases, taking place September 30 – October 2 in downtown Raleigh and at the Raleigh Convention Center.
Those wishing to obtain tickets for the ticketed portion of Wide Open Bluegrass (which takes place at Red Hat Amphitheater and Raleigh Convention Center Ballroom Stages), Bluegrass Ramble Showcase passes, IBMA Business Conference registration, IBMA Award Show tickets and hotel reservations should go to IBMA's website, ibma.org. Single day general admission for the ticketed portion of Wide Open Bluegrass starts as low as $50, with a three-day Bluegrass Ramble pass available for $75. Additional details and pricing information are available at the website.
For its second year in Raleigh, Wide Open Bluegrass will be presented by PNC; the National Supporting Sponsor is D'Addario Strings. A portion of proceeds from Wide Open Bluegrass go to the Bluegrass Trust Fund, a 501(c) 3 non-profit organization that provides financial assistance to individuals in the bluegrass music community in times of emergency need.
IBMA – the International Bluegrass Music Association – is the professional trade organization for the global bluegrass music community. The organization's six-year stay in Raleigh is the result of a partnership with The Greater Raleigh Convention & Visitors Bureau, PineCone—The Piedmont Council of Traditional Music, the City of Raleigh and a local organizing committee.
Performers for the free Street Festival portion of Wide Open Bluegrass will be announced in the coming weeks.